Celebrating Volunteers' Week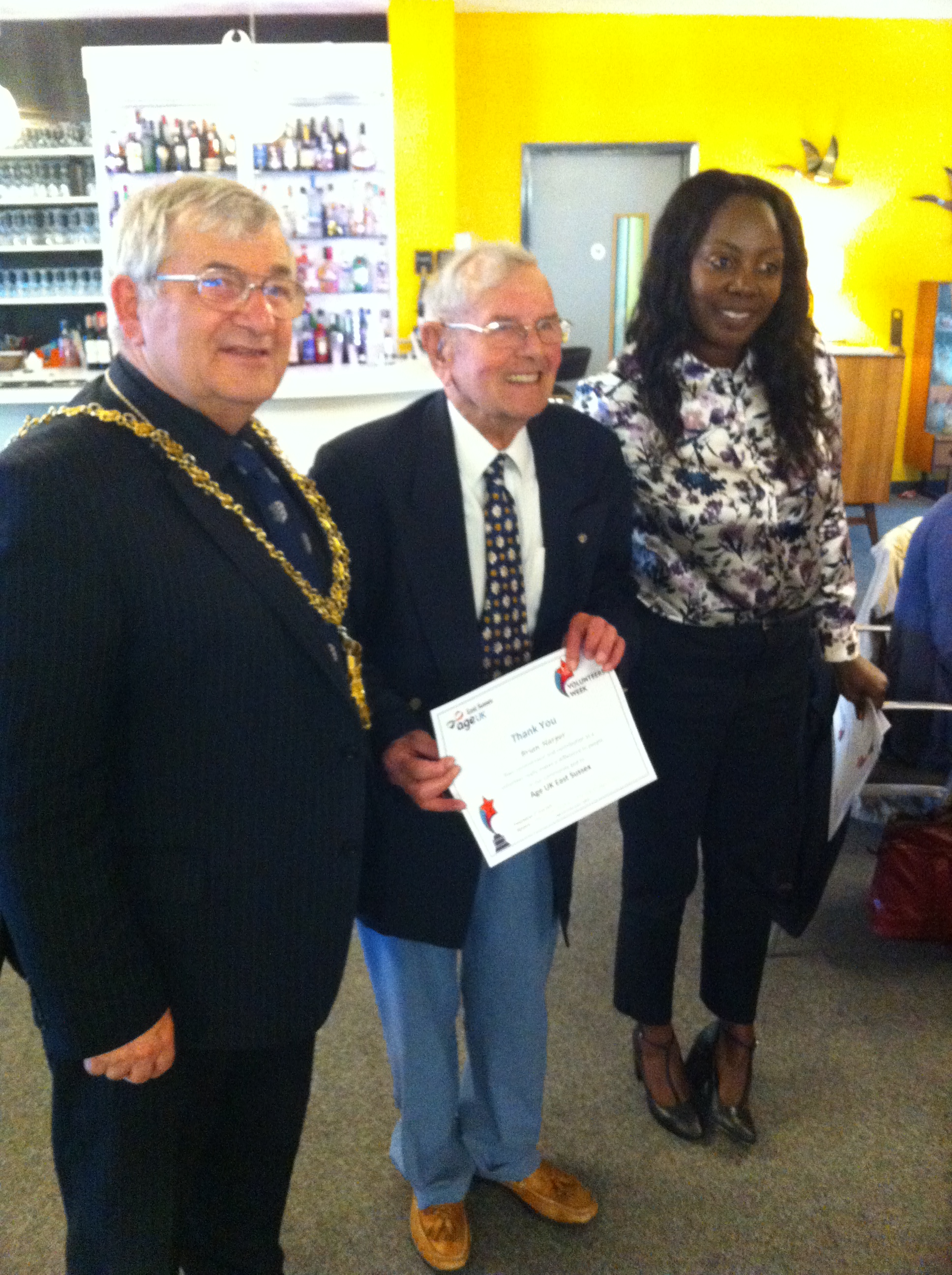 Published on 17 June 2019 10:31 AM
Age UK East Sussex celebrates national volunteer's week with volunteers from its Home From Hospital service at Sussex College.
On 4th June 2019 the Worshipful the Mayor of Hastings Councillor Nigel Sinden joined staff from Age UK East Sussex and more than 20 Home From Hospital service volunteers at Sussex College. The lunch was held to celebrate national volunteer's week and the Age UK volunteers who support older and vulnerable local residents after being discharged from the Conquest Hospital.
The Worshipful the Mayor of Hastings Councillor Nigel Sinden said: "I am delighted to present the volunteers from Age UK East Sussex with certificates to celebrate their fantastic work in supporting our older and vulnerable residents at the Conquest Hospital. The service provided is of vital benefit to our community and I hope Age UK East Sussex continue to provide it for many years."
Age UK East Sussex Head of Fundraising and Communications, David Hannam, added: "It's great to see so many of our volunteers celebrating volunteer's week and the difference they make to so many older people in our local community".
Age UK East Sussex Home From Hospital Team Leader, Abigail Lacey, said: "I'm delighted that the charity's oldest volunteer, Brian Harper, aged 89, was able to join our celebrations today. Not only is he an amazing volunteer for our service but he also volunteers for our service in partnership with Macmillan, who he raised money for last year by skydiving!"
Age UK East Sussex volunteer, Brian Harper responded: "I really enjoy volunteering for Age UK and Macmillan and helping so many people who don't have anyone else to support them when they leave hospital. I would recommend volunteering to anyone. It is not only rewarding to help others but also a joy to work with such a lovely team of fellow volunteers".
Age UK East Sussex Home From Hospital service provides up to 6 weeks of support for vulnerable, older people when they are discharged from hospital. Our team of trained volunteers provide a range of support and assistance such as shopping, preparing light snacks, cleaning and attending appointments with their client. Celebrating its 70th year providing support for local older people, Age UK East Sussex service is a great success story with 90 volunteers committing 4000 hours in providing 700 clients a year with the vital support they need to remain independent in their own homes. Our service helps prevent re-admissions thus freeing up hospital beds for other patients. For further information about how to volunteer for the Age UK East Sussex Home From Hospital service, or to find out more about our services and activities, or other ways to support Age UK East Sussex, please visit www.ageukeastsussex.org.uk or call 01273 476704.