Our professional trimmers travel across Essex to help older people look after their toenails.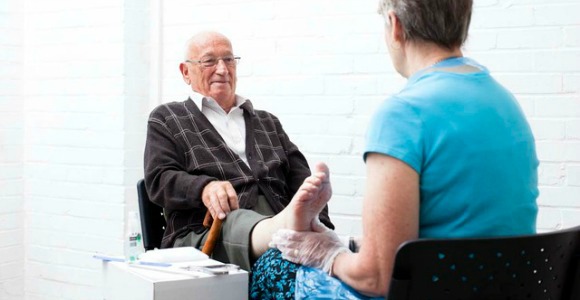 "I look forward to going along to the clinic. It's nice to have a chat and a catch up with the staff and my feet always feel so comfortable afterwards."
Trimming client
How we can help you
As we grow older, something as simple as cutting our own toenails can become much harder, or even impossible.
Our Toenail Cutting Service gives you the chance to have your toenails trimmed by qualified staff in a friendly and welcoming environment. We hold regular toenail cutting clinics at over 100 easily-accessible venues throughout Essex and we also offer home visits if you find it hard to get out and about.
We will cut your nails every six to eight weeks to make sure you are comfortable on your feet as keeping your toenails trimmed and tidy as you get older can help you:
remain mobile
avoid becoming isolated and housebound
reduce the likelihood of having a fall
avoid the general discomfort which accompanies long toenails.
It's particularly important for people with diabetes to look after their feet as raised blood sugars can cause damage to circulation and sensation. If you have been diagnosed with diabetes, and are considered low risk, our trimmers have been trained to cut your toenails for you.
Find out dates and venues for February and March clinics
A service you can trust
Between them our team have over 30 years experience and all of our trimmers have been trained by the NHS Podiatry Service.
To them our feet are an early warning system for some of the health conditions that creep up on us as we get older including diabetes, arthritis, nerve damage and circulation problems. All these conditions benefit from early intervention so a quick trim at one of our toenail cutting clinics can help towards keeping you fit and healthy.
The cost of our service
Clinic: £17.50 per trim.
Home visit: £26.50 per trim.
If you are new to our service, there is a one-off registration fee of £20.
As a charity we need to make a charge for some of our services to help us cover the cost of running them as they don't receive any funding. We strive to offer high quality services at prices that are affordable to those who need them.
If you are worried about paying for this service, our Information and Advice team may be able to help you claim benefits or allowances to cover the cost of this and other services you might need. Visit our Information and Advice page for more information.
Other information you may find helpful
Related pages on other websites
Read some of our clients stories
Mrs P's story

"I had been regularly attending the toenail cutting clinic at Imperial House in Clacton for a couple of years. It's important for me to look after my feel and have my toenails cut regularly as I have diabetes. I wasn't able to make my 8-weekly appointment one week because I had a hospital appointment on the same day."

How did Age UK Essex help?

"I phoned the Customer Care Team who asked if I would like to attend a different clinic in Clacton on a better suited day but I can't walk very far which is why I attend the Imperial House clinic and there was no public transport to the other clinic. Fortunately the lovely lady I spoke to said that a trimmer could visit me at home for this cut which suited me perfectly. I'll go along in 8 weeks time to my usual appointment but I was very glad not to miss out on getting my toenails trimmed. It made me feel very special to have different arrangements made for me."

Mrs H's story

"I have used the toenail cutting service for a number of years always visiting the clinic held at my local hospital, St Margaret's in Epping. I suffer with rheumatoid arthritis and type 2 Diabetes and found visiting the clinic increasingly difficult due to my mobility. Fortunately I was able to request a visit at home from my nail trimmer Louise."

How did Age UK Essex help?

"My nail trimming appointments now take place at home which is so much more convenient for me. With my rheumatoid arthritis getting worse I find trimming my fingernails increasingly more difficult because I can't grip the clippers and I keep catching them on things which causes a lot of discomfort. Fortunately I have been able to ask my trimmer if she can cut them too and so now I am able to get both my fingernails and toenails trimmed on a regular basis. This small routine appointment really helps me to feel more comfortable and much more confident too. I've found the service provided by Age UK Essex so accommodating and reliable."
Related pages
Our Home Help team support older people who want to stay in their own home but need a little help around the house.

Our experts are on hand to offer free and impartial help and advice on a range of issues that affect older people.

We can offer friendship and support to older people in Essex who feel lonely or need help to rebuild their confidence.