Our Home Help team support older people who want to stay in their own home but need a little help around the house.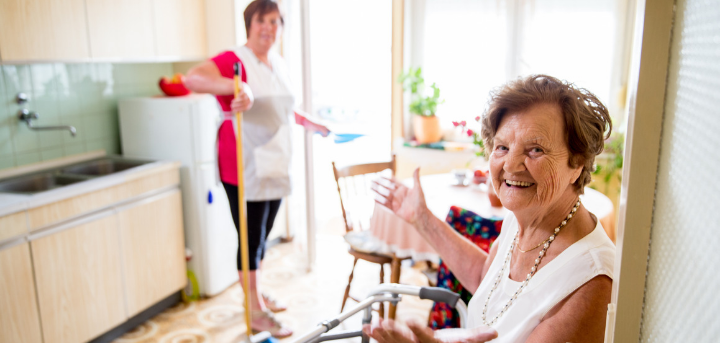 "It is such a load off my mind to have my Home Help come and clean and tidy for me, she even does my laundry and gets my shopping. It's such a relief."
Home Help client
Call us today on 01245 423 333
Our friendly Customer Care Team are ready to take your call. Lines are open Monday to Friday from 8am to 5pm.
Our Home Help Service provides a professional domestic cleaning service to those over 50 years old who live in Essex.
How we can help you
Our Home Help service has been designed to help you or your loved ones to live independently and happily at home. As we get older, general housework duties can become more difficult but we understand how important it is to have your home clean and tidy.
Our Home Help staff can lighten the load in your home by helping with tasks such as:
Vacuuming
Dusting and polishing furniture
Cleaning baths, sinks and toilets
Washing floors
Laundry
Changing beds
Emptying rubbish bins.
Shopping:
Collecting weekly shopping from the local supermarket
Collecting prescriptions.
Food Preparation Service
Outdoor Activity Support
Sitting and Companionship Service
Our Home Help staff
All our Home Help staff are trained, insured against breakages and police checked via the Disclosure and Barring Service.
To ensure continuity of service we will allocate you a Home Help who will get to know you and understand your needs.
We will Never Walk Away
What makes our service standout is our "Never Walk Away" safety policy. If one of our clients is in difficulty or fails to answer the door, our fully trained Home Helps will follow a pre-agreed emergency plan and will not leave until they know their client is safe.
The health and wellbeing of our clients is at the heart of everything we do and our approach has been universally praised and gives great reassurance to both clients and their families.
Our Customer Care Promise
We promise:
to always listen to you and make sure the service we provide meets your needs;
all our Home Help staffwill carry an identification card;
all our Home Help staff will wear aprons and gloves for all cleaning tasks;
we will carry out random spot checks to make sure our service meets our high standards and your expectations.
Cost of our service
In order to help us cover the cost of this service we charge an hourly rate of £15.40. There is also a £20 one-off registration fee. Re-registration is necessary if a client has not used the Home Help Service for a year.
As a charity we need to make a charge for some of our services to help us cover the cost of running them as they don't receive any funding. We strive to offer high quality services at prices that are affordable to those who need them.
If you are worried about paying for this service, our Information and Advice team may be able to help you claim benefits or allowances to cover the cost of this and other services you might need. Visit our Information and Advice page for more information.
Mr D's story
"The housing association I have my house through referred me to the Customer Care Team at Age UK Essex when I started to struggle doing my housework, laundry and shopping. I have problems with my memory and I also have diabetes, angina and arthritis so my health isn't great. I'm 89 so many of my friends and family are no longer around so I can be quite lonely."
How did Age UK Essex help?
"I used to get so frustrated not being able to do all the things I want to do. Fortunately Age UK Essex were able to assess my needs to try and help me to not feel so frustrated. My Home Help Melissa started to come once a week for 2 hours to do the essential housework I wasn't able to do myself. It was such a load off my mind to have her clean and tidy for me, she even does my laundry and gets my shopping for me. It's such a relief."
"Since Melissa started coming a year and a half ago I've become less well. Life is a struggle. Age UK Essex have been able to help support me by arranging for Melissa to come more regularly and for a longer time. I even have her sit with me for an hour a week. We chat or she reads to me. It's reassuring to have her visit and I feel much less isolated now."
Find out more about the Home Help Service
From costs to cancellations, we answer some of the most often asked questions about the Home Help Service.

To help us make sure we meet your high expectations, we operate a Customer Care Promise to set out how our services will benefit you.

What makes the Age UK Essex Home Help Service stand out is our unique Never Walk Away customer safety policy.
Email the Home Help and Toenail Cutting Service Customer Care Team
Related pages
We offer friendship and support for anyone who feels lonely or needs help to rebuild their confidence.

Our experts are on hand to offer free and impartial help and advice on issues that affect older people.

This service is here to support people who want to take part in activities outside of their home.