Eat Together for Age UK Exeter - The Launch
Published on 30 April 2019 03:07 PM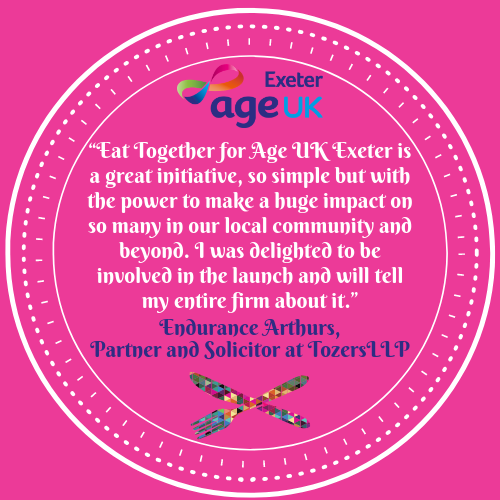 Age UK Exeter Tackling Loneliness among Older People with New Campaign
On Thursday 25th April, Age UK Exeter celebrated the start of their new campaign – Eat Together for Age UK Exeter – with a VIP launch party at the beautiful and historic Devon and Exeter Institution on Cathedral Green. They were joined by representatives from local businesses and community groups who are keen to join them on their mission to tackle loneliness among older people in Exeter. Businesses who have already pledged to support the initiative include Tozers LLP, Apple Blossom Café, Pi Society, Chuckles Cakes, Nettl and Exeter Cookery School.
Eat Together for Age UK Exeter aims to raise awareness of loneliness among older people while raising vital funds for the charity. Martyn Rogers, CEO of Age UK Exeter said "We are asking people to help us raise much-needed funds by getting together with friends, family or colleagues over food. Those involved will be raising money that will enable us to continue to deliver vital services in the city".
At the launch, Jacqui Cornish, Fundraising and Partnerships Manager at Age UK Exeter, talked about how the idea for the campaign came about after she was given a copy of The Little Book of Lykke: The Danish Search for the World's Happiest People by Meik Wiking for her birthday. Lykke (pronounced Lu-Kah) is the Danish word for happiness and the book looks into what ultimately makes humans happy. In the book, Weiking says that "Sharing food nurtures more than our physical body. It feeds our friendships, bolsters our bonds and nourishes our sense of community – and those factors are vital to our happiness."
The book got Jacqui thinking about the relationship between loneliness amongst older people and eating alone. She said "It occurred to me that our love of food could be a way to bring people together, to start to understand and spread the word further about loneliness and of course, as a Fundraising Manager, I wondered if there could be a link up to our continuous and relentless need to generate enough funds to enable us to deliver our services in Exeter."
Guests at the launch event heard shocking facts about loneliness:
- Lonely people are more likely to suffer from dementia, heart disease, and depression. (Valtorta et al, 2016) (James et al, 2011) (Cacioppo et al, 2006)
- There are 1.2 million chronically lonely older people in the UK. In Exeter alone there are 20,400 people over the age of 65; 1 in 10 of those are lonely most or all of the time. That's over 2000 lonely older people just in his city!
- Half a million older people go at least five or six days a week without seeing or speaking to anyone at all. (Age UK 2016, No-one should have no one).
- Two fifths all older people (about 3.9 million) say the television is their main company. (Age, U.K., 2014. Evidence Review: Loneliness in Later Life. London: Age UK).
At the launch, Jim Fisher, co-owner & Head Chef / Tutor of Exeter Cookery School, gave an inspiring talk recalling his favourite 'food memories' and how much importance he places on the social aspect of eating. He talked of the modern age, with sadness, where people are too busy or distracted to take time to eat as a family. Of particular poignancy was his recollection of his late father moving into Jim's family home and cherishing the time he got to spend with him daily, over food, in his later life. Referring to Age UK Exeter's Eat Together initiative, he said:
"It's things like this that give me encouragement. There is a chink of light at the end of the tunnel. Eating together, chatting together, it keeps families together. Eating together doesn't only benefit older and lonely people, it benefits everybody. That's why we are helping to support Age UK Exeter's Eat Together Campaign."
Some ideas mentioned at the launch were:
Brunch Munch – get the full English going on and invite family or friends to attend, and of course, donate
Street Party – get to know your neighbours and bring the whole community together in true Eat Together spirit!
Under the Stars – a night time picnic or evening barbie with plenty of ghost stories and toasted marshmallows!
World Food Evening – this could be the perfect one for Eurovision; get everyone to bring a dish from a different country (and perhaps even a costume too!)
Zero Waste Party – demonstrate just how green you are and throw a party with no landfill rubbish and no leftovers! And, of course, no one is left out!
Coffee and Cake – Keep it really simple and just get together with your friends for a natter. If you can, invite along someone who you think could really do with some human contact.
These are just a few of the ideas mentioned but there are lots more available in our A-Z of Fundraising Ideas or come up with your own. You will also find all the resources you need here to organise your own event. If you want more information about Eat Together or want to discuss your plans with them Jacqui would love to hear from you (j.cornish@ageukexeter.org.uk).