Angela Rippon - 9 March 2018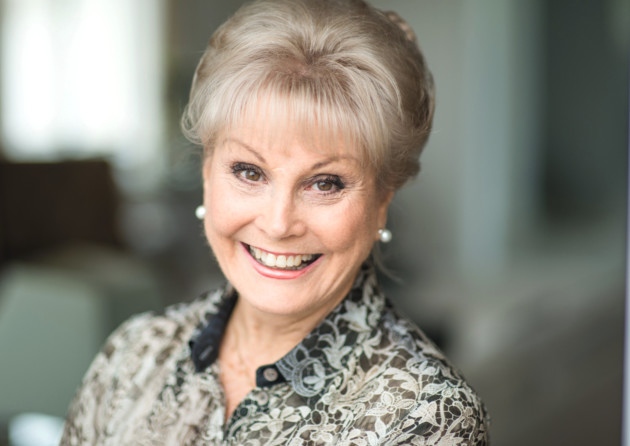 Published on 01 February 2018 04:46 PM
An Evening with Angela Rippon
Age UK Exeter invites you to An Evening With Angela Rippon - Around the World in 50 Years
Friday 9th March at Bearnes Hampton & Littlewood Auctioneers, Okehampton Street, Exeter EX4 1DU.
Drinks reception at 7pm.
Tickets £17.50 each.
Award winning British broadcaster Angela Rippon CBE, who by her own admission refuses to grow old gracefully, is coming to Exeter.
Plymouth born Angela will be sharing her stories and answering questions for Age UK Exeter in An evening with Angela Rippon – 'Around the world in 50 years' at Bearnes Hampton and Littlewood Auctioneers in March.
Age UK Exeter CEO, Martyn Rogers met Angela when she interviewed him when she returned to Devon to film Holding back the yearsin 2017. The series of programmes take a thought-provoking look at the different ways we can retire in Britain today. Following the filming Martin took the opportunity to invite her to come to Exeter to host an evening for Age UK Exeter and she was kind enough to agree.
Angela has an incredible broadcasting career of 50 years, at 31 she was the first British female news anchor. More recently, she has turned her attention to promoting wellness in later life through the highly acclaimed BBC One programme How to Stay Young and BBC One documentary, The Truth About Dementia. This was a very personal investigation for her, looking into the brain disease that took her mothers' life.
Age UK Exeter CEO, Martyn Rogers says of the event:
"We feel very privileged to be hosting an event with Angela Rippon. She is a fantastic role model whose work around lifestyle choices for older people and dementia is exceptional. I am very much looking forward to hearing her stories and I have a question or two for her"
"Charities like Age UK Exeter make a huge difference to people's lives and I am extremely pleased to support them in raising money for their vital services by sharing my story..." (Angela Rippon CBE)
"When I was 50 I decided that I didn't want to go the "graceful" way. The glorious thing about reaching this age is that you don't know how long you have left and you want to make the most of it" (Angela Rippon CBE)
The event will take place on:
9th March at Bearnes Hampton and Littlewood Auctioneers, Okehampton Street, Exeter, EX4 1DU. Drinks reception at 7pm, Tickets at £17.50 please call: 01392 202092 or visit www.ageukexeter.org.uk.
The evening will consist of:
Drinks reception and canapes at 7pm, a talk by Angela at 7.30pm for approximately one hour followed by the opportunity to ask her questions. There will also be a raffle on the night with fabulous prizes.
This event is kindly supported by Bearnes Hampton and Littlewood and Fraser and Wheeler
Angela Rippon Biography
Angela Rippon has been a familiar face and voice in British broadcasting for over 50 years. The career of this award winning journalist has embraced an impressive variety of programmes on both radio and television for both Commercial and BBC stations in Britain, America and Australia.
Trained as a journalist in her home town of Plymouth, Angela worked for both BBC Plymouth and the ITV station Westward Television before joining BBC National News in 1973. She was appointed the first woman journalist newsreader in l975 and made two memorable appearances in the Morecambe and Wise Christmas Shows.
Angela was a founder member of the commercial breakfast service TV-am in 1982 and in 1984 moved to America to work for CBS in Boston.
She has presented a wide variety of programmes from hard news and current affairs, to quiz shows and magazine programmes for both BBC and Commercial radio and television. Titles include Come Dancing; Top Gear, the Antiques Roadshow, Masterteam, Crufts Championship and The Holiday Programme.
She currently presents BBC's Rip-Off Britain and reports for The One Show on BBC One reporting from various locations across the UK. She also presented BBC One's Holiday Hit Squad which returned for a second series in Spring 2014.
Angela has also presented the highly acclaimed BBC One programme How to Stay Young. In the first series Angela investigated how we can keep our brains and bodies fit and healthy. Angela also presented the second series where she investigated the latest experiments and research that could help put the brakes on the ageing process. Angela also presented the BBC One documentary, The Truth About Dementia, which saw her go on a very personal investigation looking into the little known brain disease.
Angela has written 14 books, the most recent being Fabulous at Fifty and Beyond.
Achievements:
1996: Entered into the Royal Television Society's Hall of Fame
2002: Voted European Woman of Achievement
2004: she was awarded an OBE in recognition of her services to Broadcasting, Charity and the Arts.
2017: Angela was appointed Commander of the Order of the British Empire (CBE) in the New Year Honours for services to dementia care in her role as development lead with Dementia Friendly Communities.