Exeter Literary Festival Competition - 15 - 18 November 2018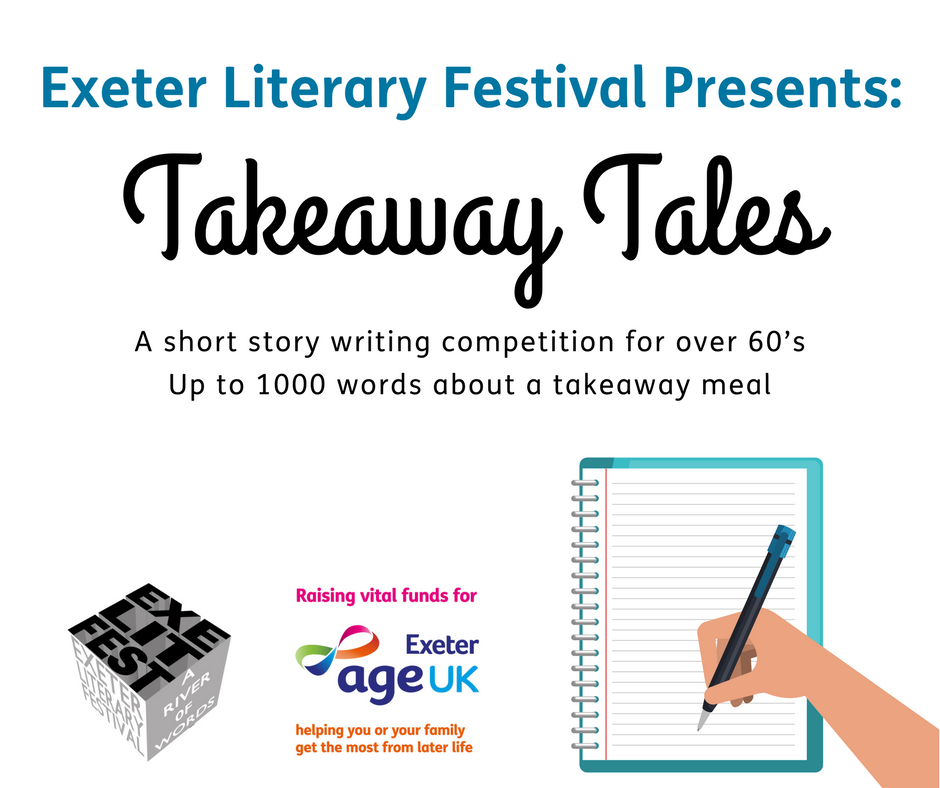 Published on 20 March 2018 04:46 PM
" Takeaway Tales"
Up to 1000 words about a takeaway meal - A short story writing competition for over 60's
First Prize £100 (Donated by "New Beginnings") + £50 meal for 2 voucher with wine from Bills Restaurant, Exeter
Second Prize £50 (Donated by Creative Writing Matters.) + 2-course meal & glass of Prosecco for two from Prezzo, Exeter
Third Prize - Voucher for £20 from "On the Waterfront"
How to enter and rules
Must be unpublished work up to 1000 words in length, use one side of each A4 written page
and staple the pages together. If typed use double or 1.5 spacing. Before 12 Noon SEPTEMBER 27TH 2018 post or take to – ExeLitFest Writing Competition, Age UK Exeter, 138 Cowick Street, Exeter EX41HS.
Include-a £3 cheque payable to Age Uk Exeter or £3 cash for each entry
Contact details. Name, address, telephone number, email, date of birth MUST be on a separate piece of paper from your story.
If you would like confirmation of entry please enclose a stamped self-addressed postcard or envelope.
For more information head to Exeter Literary Festivals website here.