Sky Dive for Age UK Exeter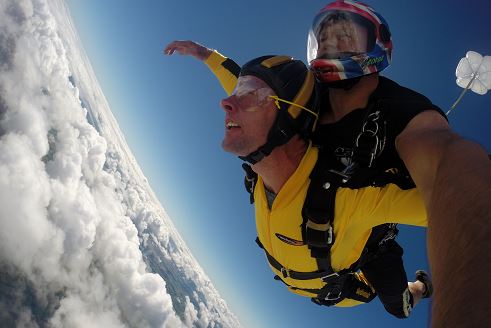 Published on 23 April 2019 09:25 AM
Calling all thrill seekers - if you've ever wanted to go sky diving, here's your chance! On 14th September 2019 Age UK Exeter is teaming up with Skydive Buzz to offer you the perfect opportunity to try this exhilarating sport for FREE! By raising sponsorship for us you will be helping to support our vital, life-changing services for older people across Exeter. If you'd like to take part but can't make that date do get in touch by emailing j.cornish@ageukexeter.org.uk
---
How it works
To take part in the 'Jump for Free' Scheme you will need to fundraise a minuimum of £395 which is split as follows:
£50 non-refundable deposit to reserve your jump (we can offer you a no deposit scheme if needed),
£200 balance to Skydive Buzz on the day of jump,
£145+ minimum sponsorship for Age UK Exeter.
We find most people raise this easily and many raise well over £500. You will be surprised how many people will sponsor you for taking on this epic challenge. Were here to help with fundraising advice too!
---
Sign up HERE to reserve your place!
---
Recent Skydive Stories
Paul Newberry jumped Wednesday 28th September 2017
This is what Paul posted on Social media afterwards...
"OMG! OMG! OMG! I have just left a plane, a perfectly good plane. I am doing a forward somersault followed by a right shoulder roll and then miraculously we straighten out…….I opened my eyes.
"The ground is 3 miles below me and the view is spectacular. This is no rollercoaster rush, no leaving the stomach behind, just lying flat with a 120 m.p.h. wind blowing past.
One minute later, 60 long, very long, seconds and 2 miles of freefall, looking around, rotating to see different views and then the parachute opens.
"All is suddenly and completely silent as we float gently down. We are still a mile up, so lots of time to look around. And it is so very, very, peaceful. I saw a rainbow from above, circular and with our shadow on it, rare apparently but wow!
"Totally amazing! Would I do it again, oh yes!"
Well done Paul!!
Christian Murray was keen to jump as soon as possible and made his 15,000 plunge on Sunday 18th July 2016. You can see his video here: