Virtual Exeter 10K in Support of Age UK Exeter.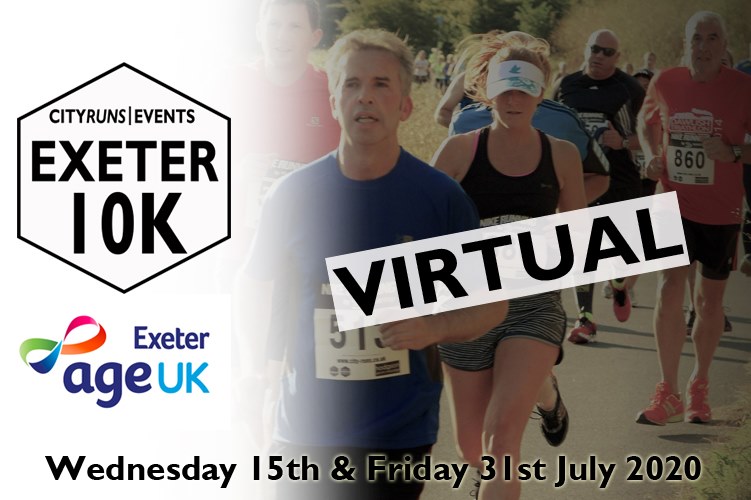 Published on 08 October 2019 12:19 PM
Update in light of the Covid 19 Pandemic
England Athletics & UK Athletics have extended the suspension of licensed races until the end of July; therefore, we will not be able to put the 10k race on as planned. This is disappointing obviously but safety comes first. We do, however, have a 2-fold plan … part one will be to do a 'Virtual 10k' in July and part two will be for us to look at putting the event on later in the year. Anybody who has already entered will be contacted with details of their options.
To enter the Virtual 10K please CLICK HERE
________________________________________________________________________
Age UK Exeter collaborate with City Runs for 2020 Summer 10k
In 2020 we're collaborating with City Runs to bring you the largest 10k running event in Exeter! Not only that but there will be not just one, but two runs, held on 15th and 16 July 2020.
The Exeter Summer 10k will take place over two evenings on Wednesday 15th and Thursday 16th July 2020. There are 100 half price charity places up for grabs. These are now available, on early release, and are open to runners who pledge to raise at least £50 in sponsorship for the event. The 100 runners who sign up for the half-price charity places will help Age UK Exeter to raise a guaranteed, much needed £5,000 towards work in the city and hopefully even more.
We are keen to make the event environmentally friendly too so there will be no plastic water bottles handed out. Instead, there will be 2 water stations using compostable cups.
WHY ENTER?
Pancake flat 2 lap course suitable for all abilities
Medal and goodies for every finisher.
KM markers
Pacemakers
2 water stations on route (using compostable cups)
UK Athletics licensed event (TBC)
Sign Up for the Virtual 2020 run today!