WRITING / POETRY COMPETITION 2022
PRIZE - £30 book voucher
After a year away our most popular competition is now open again for submissions.
The Writing Competition 2022 is looking for the best short story or poem.
You can cover any topic or theme in your entry just nothing that will make us blush.
To enter you must be 50+, have submitted an original piece of writing not already published elsewhere and agree to have your winning story or poem published on our website.
Closing Date is 1st July 2022
Submissions to reception@ageukfs.org.uk or Post to us
To inspire you below is the winning entry from 2020.
Mrs Ruth Wearing who lives in Faversham accepting her prize and award.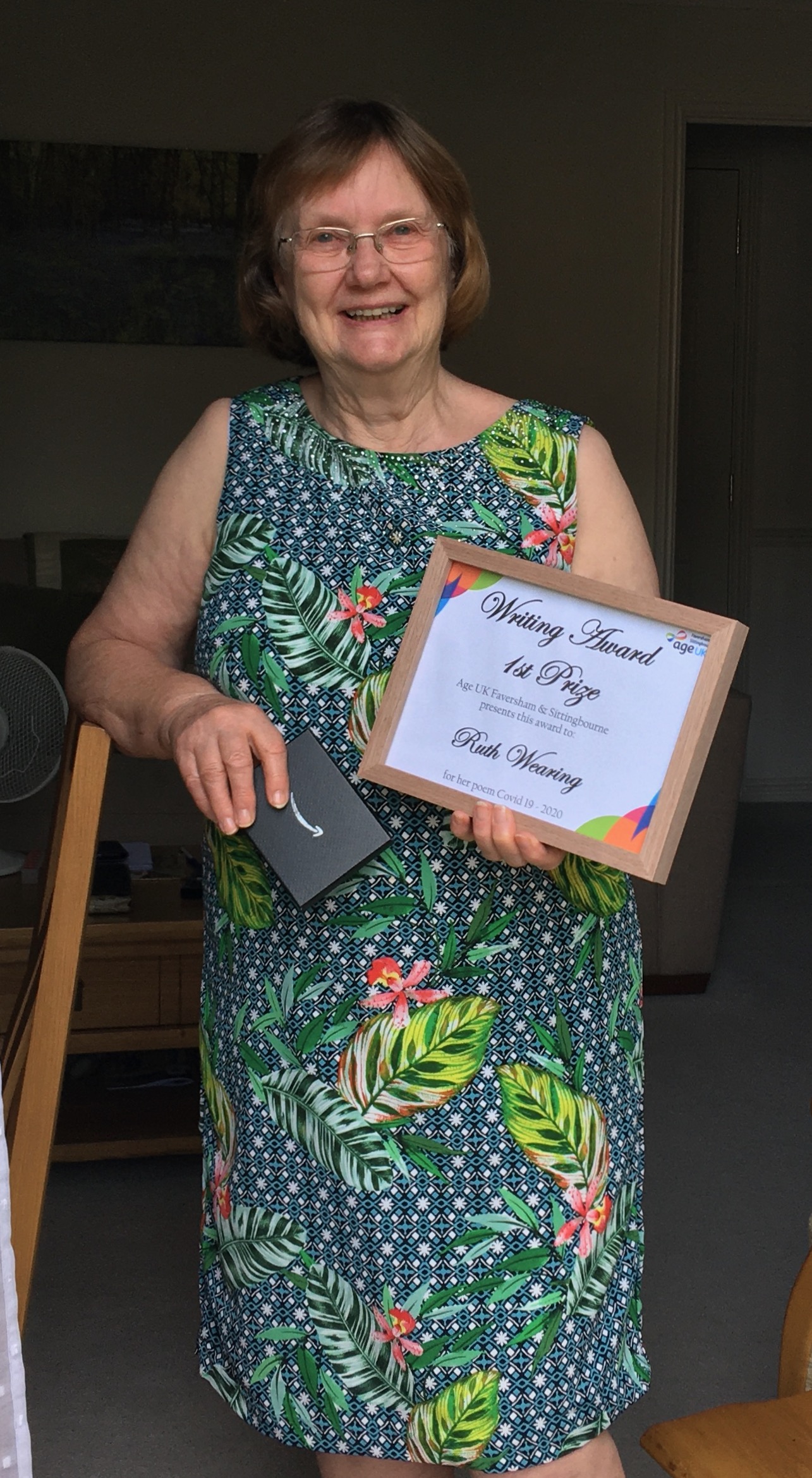 Below is her winning entry:
Covid 19 – 2020
Retired, relaxed and happy
A few more years to cruise,
Then Covid came, it changed all that,
What can we do, we muse?
We're locked indoors and shielding,
The only cruise we do
Is round the local park each day.
And that is nothing new!
We wash our hands, we don our masks,
There's not much else to do
But sit around and eat too much,
We're useless now seems true.
But here comes one, his name's Sir Tom
Who shows us what to do,
Get up, get out and follow him,
Maybe send a Pound or two.
Moaning, moping, whinging
Now assuredly is out,
We may be old, but we're not done,
You'll see what we're about.
Cheering, writing, ringing,

Make a cake or find a way
To cheer a lonely person,
That's what we'll do today.
Fulfilled, restored and busy
Age doesn't matter now,
Indoors maybe and getting old,
But we're happy anyhow.