Activ Age2019
Published on 12 September 2019 09:25 AM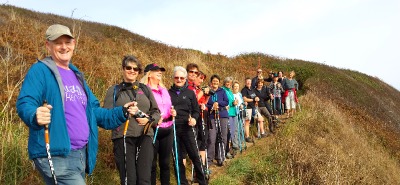 Many people think falls are a natural part of ageing but this is NOT true. Most falls can be prevented and you have the power to reduce your risk through building up your strength, flexibility and energy levels. You can build all these up gradually, a tailored exercise programme can reduce falls by as much as 54%.
Age UK Gateshead provides services :
Promoting healthy ageing across the different stages of the life course.
Evidence based strength and balance programmes and opportunities for those at low to moderate risk of falls.
Home hazard assessment and improvement programmes.
Monday 23rd August
Chair based exercise - St Joseph's Church Hall, Blaydon 13.15 - 14.15 Short Walking Group - (3-8 Miles) Call for details, FREE
Tai-Chi - Mindful Therapies, British India House , Newcastle 10.15-11.15 £4.50
Tai-Chi - Mindful Therapies, British India House , Newcastle 11.20-12.20 £4.50
Line Dancing- Blackfrairs Centre, Newcastle 10.30-11.30 £4.00
Tap Dancing- Blackfrairs Centre, Newcastle 9.45-10.15 £1.50
Yoga, Eldon Leisure Centre, Newcastle 14.00- 15.10 £4.50
Tuesday 24th August
Chair based exercise- Pleasant Place, Birtley 10.15- 11.15 FREE
Chair based exercise- Ridings Court, Crawcrook 13.30- 14.30 £2.00
Line dancing- St Joseph's Church Hall (opposite Gateshead interchange) 10.30-11.30 £3.50
Pilates- St Helen's Church Hall, Low Fell 9.50-10.50 £4.00
Wednesday 25th August
Exercise to music- Salavation army, Sunderland Road 11.30-12.30 £3.50
Tai-Chi - Mindful Therapies, British India House, Newcastle 10.15-11.15 £4.50
Tai-Chi- Denton Burn Community Association, Newcastle 14.00-15.00 £4.00
Tai-Chi- Gosforth Garden Village Association, Newcastle 13.10-14.20 £4.00
Line Dancing- Blackfrairs Centre, Newcastle 10.15-11.15 £4.00
Line Dancing- Blackfrairs Centre, Newcastle 11.20-12.20 £4.00
Thursday 26th August
Tai-Chi- St Joseph's Church Hall (opposite Gateshead interchange) 11.30-12.30 £3.50
Long Walking Group - (7-10 Miles) Call for details, FREE
Exercise to music- Eldon Leisure Centre, Newcastle 10.15-11.15 £4.50
Exercise for men- Jesmond Pool, St George's terrace 14.00-14.45 £4.50
Friday 27th August
Tai-Chi - St Joseph's RC Church, Birtley 10.00-11.00 £3.50