Age UK Gateshead's Oldest Volunteer
Published on 20 November 2018 10:48 AM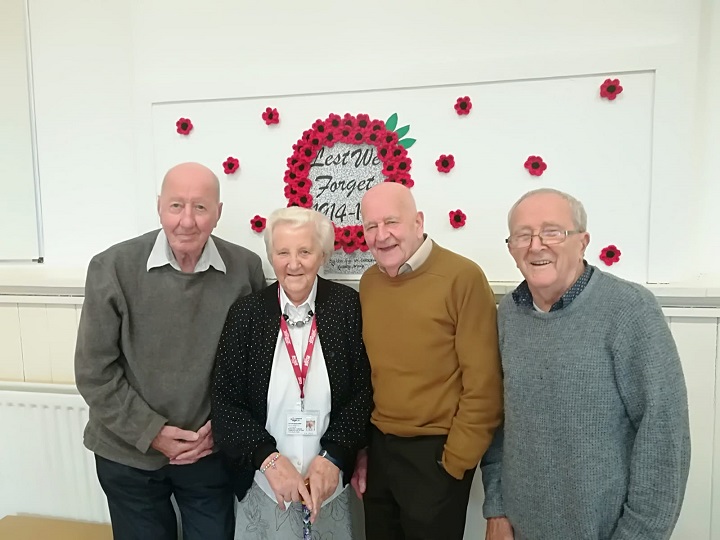 Life History of Elizabeth (Leas) Cecilia Scorer
I was born in Amsterdam on 13th December 1925. At the age of 14 I got my first job in a fruit shop, I loved this job. When I was 20 I met my husband to be I'd never been happier. He was from Dunston but was stationed in Amsterdam. We fell in love and were soon married. We went back to England and lived with his parents in Dunston. I stayed in Dunston while he went back to Amsterdam to work. I didn't speak any English and my husband's family spoke no Dutch so the first few weeks were extremely challenging for me. After six long weeks my new family helped me to learn enough English to get by.
I then managed to get myself a job in a weaving factory, which was ran by a German man. He was very helpful and understanding and helped me gain confidence again as I lost lots when I moved here.
In September 1948 I became pregnant with my first baby. Sadly, he died at birth, this broke my heart as all I ever wanted was my own family. Two years later we celebrated as I was expecting again. Unfortunately he again died at birth, we were losing faith that we couldn't have our own family. My husband did not want to go through the emotional upset again and tried to persuade me that enough was enough but I wanted one more chance for a baby. In 1954 I had my own family when I gave birth to our beautiful daughter (Elizabeth). Our life was now perfect so we decided to get a place of our own. We found a flat not too far away in Dunston and stayed there until our little girl was five (not so little anymore). We then saved up like mad and bought a bungalow, not long after we upgraded to a 3-bedroom house still in Dunston. For two years we ran our very own dance classes. My husband could not dance but still loved it as we were together without a care in the world.
As the years went on we decided to move into a bungalow and give our house to Elizabeth. The house was too big for us and we wanted to see our daughter get the enjoyment out of it the same way as we did. Three months in our new bungalow, the love of my life sadly passed away. I didn't know what to do anymore I felt lost without him however I tried my hardest to keep strong for my daughter, as I knew she was also struggling to cope with the loss of her dad. I could not eat, did not want to go out, I just wanted to be with him I did not know what to do I was lost without him, I spent all my adulthood with this man and now I was left alone. I could not focus on anything, I felt dead inside.
June 2013 my daughter contacted Age UK Gateshead to ask about social groups, as she wanted me to get out of the house. I remember thinking there is no way I am going to some group with those kind of people. I remember a staff member from Age UK Gateshead's Bereavement service arranged a home visit. She could notice my uncontrollable emotional state that and she knew she had to do something quickly. After some persuading she persuaded me to join the craft group as she found out I loved working with my hands. I did not like the group or the people in it and was not going to go back it just wasn't right for me. All I wanted to do is be by myself in the house. My daughter persuaded me to give it a few more chances. I went back for my daughter, as I knew she was worried about me because I didn't leave the house at all now.
After a few months, I was even starting to notice a difference with myself. I was less emotional and started to interact with others. After a month I was offered a place in a Day centre to give me two days a week social interaction with others. A few more months passed and I loved it so I built up the courage and asked if I could attend another Day centre. I now enjoyed the company of others and loved the trips out. I enjoyed the involvement with all the activities held in the groups and started for the first time to look forward to going out. My life had now changed for the best.
My latest membership is joining the Knitting group. I am now teaching others to crochet and at the great age of 93 I have become Age UK Gateshead's oldest volunteer.
The best thing I ever did was agree to going to Age UK Gateshead's social groups. I got to meet others people and it has helped me a lot. It helped my daughter too as I know she was worried and was being strong for me. I have my confidence back. I do not know where I would be now if it were not for Age UK Gateshead as at the time I did not want to live. I thank you all so very much.