Levi Roots' jerk chicken recipe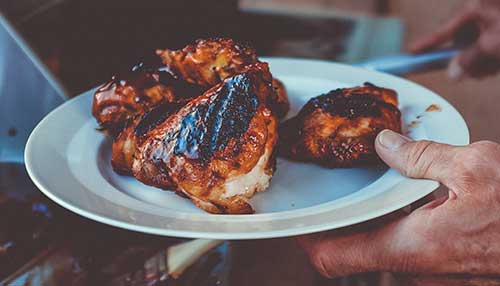 Having a BBQ this summer to fundraise for Age UK? This jerk chicken recipe from Levi Roots will wow your friends and family.
The recipe is for a simple and delicious marinade that's perfect for chicken wings. But if you don't fancy chicken, you could also try marinating tofu, or vegetables like butternut squash, courgette or aubergine.
It'll make enough marinade for 16 chicken wings, but if you're cooking for fewer people, you could store the leftover marinade in the fridge for a few days.
Ingredients
4 tsp all-purpose seasoning
2 tsp ground ginger
90ml cider vinegar
1 Scotch Bonnet pepper, with seeds, very finely chopped (be careful, these are really spicy!)
2 tsp finely grated nutmeg
2 tbsp olive oil
16 chicken wings (or tofu or veg)
lime wedges, to serve
Method
Mix together all the marinade ingredients in a shallow dish and add the chicken wings, turning them to coat really well. Cover and marinate in the fridge, ideally overnight, or for at least 1-2 hours.
Barbecue the chicken wings for about 10 minutes, turning them over when they're patched with brown.
Serve with cooling lime wedges.

Set up a JustGiving page
If you haven't already, now's a great time to set up a JustGiving page so you can collect money from the people coming to your BBQ.