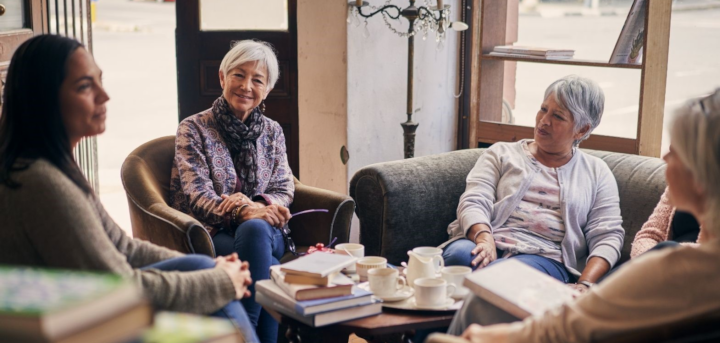 For people ageing without children
"Community circles create opportunities for people to come together to help each other to have better and more connected lives." Helen Sanderson, Community Circles Founder
We recognise that if you don't have children or they're unable to support you, your experience of growing older may be different from others. It could mean that you never had children, you have lost contact with each other, they have pre-deceased you, or your children are unable to offer support for other reasons. If this describes your situation, one way you could strengthen existing connections, create new ones and make positive changes in your life, could be with your own Community Circle.
How it works
A Community Circle typically consists of two or more people, chosen by you. Together, you decide ways you can:
Spend more time with people you enjoy being with
Try a new hobby or pick up an old one
Go out more and join in with activities you like
Our Circles Facilitator will talk to you about what is important to you and any changes you would like to make in your life, help you invite people to be part of your Circle, arrange your Circle meetings and provide information about activities near you.
"For me it's about reconnecting with friends for a good chat and having something to look forward to. I'm really pleased I took the plunge and for anyone who feels lonely, I would definitely say give it a go." Alan in Stroud
Our Weekly Online Social Group
Are you ageing without the support of your children? Maybe you never had children, they have pre-deceased you, live far away or are unable to support you.

If so, your experience of growing older may be very different from the people around you.

Our informal social group is a place to meet and connect with other people Ageing Without Children, share stories, experiences and find information and support. Meetings take place weekly on Monday morning between 10am and 12 noon over Zoom.
For more information
Call Ida Poschel, Community Circles Project Officer, on 07599 109936 for an informal chat and a link to the meeting, or email her on IPoschel@ageukgloucestershire.org.uk