Make the most of technology
Make the most of technology with our One Digital Project
Getting Friendly with a laptop, iPad or smartphone can open up a world of possibilities and we can show you how.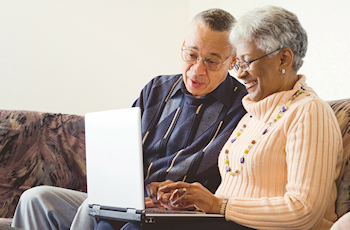 From researching your favourite hobby, to managing your banking online, you could benefit from getting connected and understanding what your device can do for you. If you are aged 50 or over, Digital Champions will help you get online safely and with confidence so you can really make the most of technology.
Group sessions are informal, usually with around 10 people and take place in a variety of community settings. You will be able to find out how to, for example:
Search for things online using Google
Set up your own email account
Shop and bank online
Use Skype to talk to people "face-to-face"
Learn about functions which you, or someone in your group requests
Bring along your own device, or we offer a tablet loan scheme so you can try one before buying your own. For more information and to book your session, contact
Become a Digital Champion.
If you have some time to give and basic IT know-how to share, why not become a Digital Champion and help older people in Gloucestershire make the most of technology.
For more information
call 01452 422660 or 07341 569156