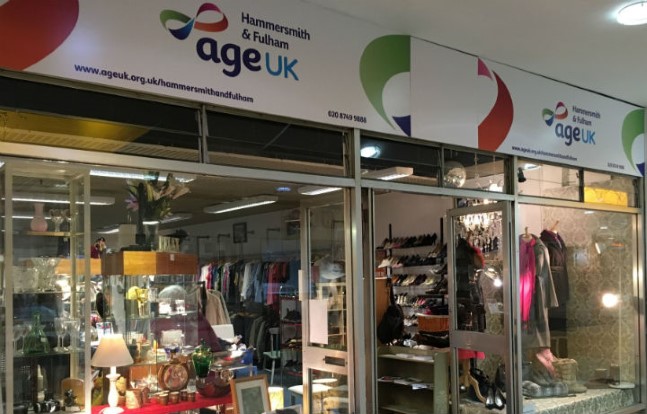 Looking to bag a bargain, declutter your life, or volunteer?
You can do all three at our charity shop in Shepherd's Bush.
Pop in or give us a call on 020 8749 9888
About our shop
The Age UK Hammersmith and Fulham charity shop is a great place to find bargain clothes, books, DVDs, household goods, and even furniture.
Where to find us
Age UK Hammersmith and Fulham charity shop,
Unit 21, West 12 Shopping Centre,
Shepherd's Bush Green,
W12 8PP
Opening hours
Monday to Saturday 10am – 6pm
Sunday 11am - 5pm

What we stock
We have a great range of items in store, our speciality is clothing and accessories, such as:
Hats
Bags
Gloves
Scarves
Shoes
Ladies clothing including jackets and dresses
Mens clothing including coats and suits
Donations
We really appreciate your support in providing stock for us to sell. If you're having a clear out and have some items to give away, please make sure that they are clean, without holes or rips. You can drop any donations off to our store directly during our opening times, or to our office. Please don't leave items outside the shop after closing time.
We are always looking for china, glasswear, books, DVDs, antiques and general ornaments. We've had some pretty unusual items over the years - Persian carpets, a rocking horse and several wedding dresses. The income from our shop goes entirely to supporting our work for older people within Hammersmith and Fulham, so please be generous. We do not accept electrical goods because of health & safety concerns.
Volunteering at our shops
Our shops rely on volunteers for sorting stock, creating interesting window displays, and attending to customers. If you are interested in volunteering with us, please visit our volunteering page to see the charity shop role description and how to get in touch.

Visit our shop
Pop in or give us a call on 020 8749 9888