Remembering Dawn Stephenson
It is with great sadness that we inform you of the passing of Dawn Stephenson.
Dawn passed away this summer. She had been a valued leader of Age UK Hammersmith and Fulham team since 10 November 2005 and she will be missed. Dawn recently retired from her role as Chief Executive on 14 August 2020 due to ill health. It was hoped that the decision would have aided her long-term recovery. It is truly devastating that this didn't happen and that she wasn't able to enjoy her well deserved retirement. Dawn was passionate about Age UK Hammersmith and Fulham, older people and people in general. She had a beautiful smile that could disarm anyone. She was able to communicate with everyone and made them feel that they were the centre of her universe. She was inspirational and led us through difficult times, using her excellent negotiating skills to get people on side and donate to our charity, either financially, time or services. She had a presence and energy that had not diminished despite being ill for over five years. We will keep you updated about her funeral services, once we have been informed by her family. Dawn valued her family above everything and was a very proud grandmother. It was almost a daily ritual of her showing off her granddaughter. Please keep Dawn's family in your thoughts as they go through this difficult time.
If you knew Dawn and you would like to leave a memory here, please get in touch so we add your thoughts and regards to this page.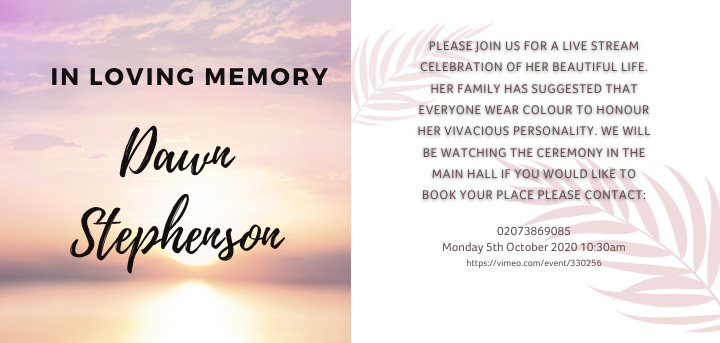 Dawn's Family's Just Giving Page
Dawn loved Age UK Hammersmith and Fulham. She was very passionate about the work she had put in over the years to improve the lives of older people in the borough. Her family has set up this Just Giving page in case you would like to make a contribution in her memory.