The Hammersmith & Fulham Local and Vocal Hub runs quarterly forums to gauge the views of local residents and enable them to question those providing services for older people in the borough. It's friendly and it's free. Come and join us now!
The Consultative Forum funding has come to an end and our meetings will take a new format. We will be called the Local and Vocal Hub. Our meetings will be managed by a steering group instead of committee members.
Each quarter we invite significant people responsible for delivering local services in Hammersmith & Fulham to talk about future plans. It's your opportunity to understand and question what they are doing in your name.
You'll find the atmosphere warm, friendly and inclusive. Everyone's view is important to us and we value people from all sections of our community.
Meetings will take place once every quarter at Age UK Hammersmith and Fulham 10am-11.30am
Wed 18

th

December 2019 – Digital day and social event from 11am-3pm - Venue: Age UK, 105 Greyhound Road, Hammersmith, London W6 8NJ - Full details to be announced soon.
Meetings will be held in the Activities room at Age UK Hammersmith and Fulham, 105 Greyhound Road, W6 8NJ. Tea and coffee provided free of charge by Age UK Hammersmith and Fulham
Previous Meetings and Events:
Tues 20th Feb 2018 - Annual General Meeting - Review of the past year's activities and discussion on areas of exploration for the upcoming year. At this forum, our members were asked what services they would like to see, what areas they would like to influence and where would they most like to see change in Hammersmith and Fulham.
Wed 21st March 2018 - Presentation by the Fire Safety Officers - Information on the types of fires they are called out to in the borough and what to do if you discover a fire in your home. Statistics for Hammersmith and Fulham April 2016- March 2017 regarding the types of fires they are called out to include: 25% - Kitchen, 21% - Electrical Fires, 18% - Smoking and 8% - Candle.
Wed 18th April 2018 - HUSTINGS - Pre-Election - Each candidate was given 3 minutes to discuss their policies and then questions were asked from the floor. Presentations from: IRMA VON WIESE- LIBERAL DEMOCRATS, JOE CARLEBACH- CONSERVATIVE and BEN COLEMAN-LABOUR
Wed 16th May 2018 - GDPR- New General Data Protection Regulation which came into force 28th May 2018 - It aims to reduce the risk of an individiuals data being stolen or abused. It gives citizens the right to be forgotten.
Wed 20th June 2018 - Residents Satisfaction Team presented on the GOLDEN NUMBER and our preferred choice of communication - Most of the residents preferred Face to Face and some of the residents did not have internet access at home and used the local library with limited access. The introduction of a GOLDEN NUMBER SYSTEM aims to have one number and you get direct access to a person without having to press 1,2,3 etc
Weds 18th July 2018 – Presentation from Better Healthcare Services on live in carers and also Hammersmith and Fulham Council on housing options for older residents in the borough - 10.30am-12.30pm at St Paul's Centre, Queen Caroline Street, Hammersmith, W6 9PJ
Weds 19th Sept 2018 – Windrush - 10.30am-1.30pm at St.Paul's Centre (at St Paul's Church), Queen Caroline Street, London W6 9PJ
THE AIM OF THIS SESSION WAS TO ANSWER YOUR QUESTIONS
Event included:
Local Councillor - Cllr Amanda Lloyd-Harris
Community Support Worker - Sharon Tomlin
Someone who has been through the process - Lisa Mentz
Outreach Team from the Home Office
AND YOU!!!!
Friday 19th Oct – Wellbeing Fair: Having a Healthier Lifestyle - 10am-2pm at Charing Cross Hospital Social Club, Aspenlea Road, Hammersmith, W6 8LH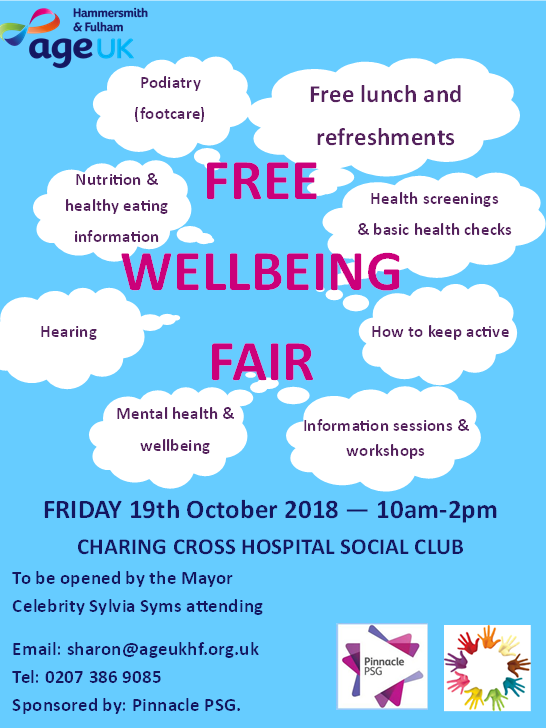 Weds 21st Nov – 10.30am-12.30pm at St.Paul's Centre (at St Paul's Church), Queen Caroline Street, London W6 9PJ
First Presenters: Alaa Saleh and Bethany Golding from NHS Hammersmith and Fulham Clinical Commissioning Group. They are Patient and Public Engagement Communications Officers
We were concerned about the Impact the cold weather has on vulnerable people in our borough especially at this time of year - Coughs, Sore Throats, Flu, Norovirus etc.. to help us shape the service we asked participants to complete and bring along a short survey with their feedback.
Second Presenter: John Patterson - Assistive technology coordinator from Hammersmith & Fulham Council
The types of equipment available include:
* An alarm pendant which you wear round your neck or on your wrist - if you have an accident or are taken unwell you can press a button on the pendant to call for help
* A sensor which raises an alarm if it detects fire, smoke, gas, carbon monoxide, or an overflowing sink or bath
* Burglar alarms and bogus caller alarms to enable you to get help if you are worried someone is trying to get into your home
* Falls detectors, bed sensors and epilepsy sensors for people who may become ill suddenly, or fall - the sensors can tell if you have fallen suddenly, or are having a fit, and will automatically call for help
* Memory aids such as memo minders which allow you to record messages with daily reminders, perhaps reminding you to take medication or to eat meals on a regular basis
* A device to switch the light on at night when you get out of bed
* A device to remind you to take your keys with you
* A 'tracker' (also known as a GPS or sat-nav) device which alerts your carer that you are leaving the premises or have not returned within a certain time
* Monitoring systems to ensure your family know you are safe within your home - for example that you have got up in the morning, that you are going to bed safely, that you have not fallen in the bathroom, or that you have not left your home in the middle of the night - these systems are particularly useful for people with dementia
People First and staff from Hammersmith and Fulham have produced this guide which explains what types of equipment might be suitable for you, whether following an assessment from your council, or if you want to buy it privately.
For further information click here.
Friday 14th December 2018 - Christmas Party - There was a brilliant selection of festive hats & head pieces at this year's Consultative Forum Christmas Party! The atmosphere was wonderful as over 40 people enjoyed a festive lunch, games, crackers and music!
Wed 20th March 2019

- Older People's Commission with Bryan Naylor

Wed 19th June 2019 – We were joined by the Interim Chief Transport Planner, Transport and Highways at Hammersmith & Fulham Council who talked about how they will implement the Mayor of London's Transport Strategy (MTS3) in our borough. The Three priority areas of Mayor of London's Transport Strategy are: *Healthy Streets for Healthy People / *A good public transport experience / *New homes and jobs
Contact Sharon for more information on 0207 386 9085