Reaching you: home visits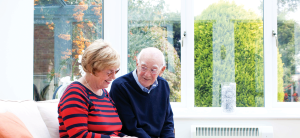 What do we do?
If you feel that you or a member of your family in Herefordshire (excluding Ross) would benefit from regular home visits from one of our volunteers, please get in touch with us on 0333 0066 299 and we will see if we can arrange it.
Does it cost anything?
This is a self-funding service, so there are some costs incurred. We charge:
£30 one-off initial fee (to cover administration including the cost of DBS-checking volunteers)
£10 a month thereafter (to cover administration costs)
45p per mile travelled by the visitor