1-2-1 Dementia Outreach for carers
This service provides one-to-one ongoing support, advice and information to those who care for an older person living with dementia or Alzheimer's.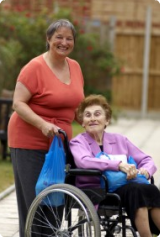 The type of support given will be agreed with the person's main unpaid care giver, so that the every day stresses and strains associated with that role may be alleviated.
Our team can discuss with you exactly what help is required; for example, help with benefits advice, information about other services, befriending or just a friendly face to visit you and the person you care for.
This support service will be given as long as you need it. It is not time limited and is completely free of charge.
Social lunches and information days are also organised to provide carers with the opportunity to meet others in similar circumstances.
For more information, please contact the Community Services Manager.
Contact
Community Services Manager
Phone: 01227 749570