A laundry service is available to wash, dry and iron laundry for those people who are unable to manage their own.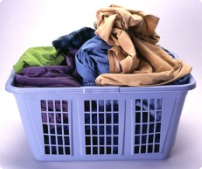 This service is available to people who use our Centres on a day return basis but is also offered to those who do not attend the Centre. In these cases laundry can be collected and returned on a weekly basis. Each person's laundry is washed seperately therefore there is no need to label each item.
Our machines are able to care for your everyday laundry needs but they cannot wash delicate items, such as fine wool or large items, such as duvets and curtains.
Charge is £8.00 per load and a small extra charge is added for the collection and delivery service.
If you would like to find out more about using the laundry service, please contact our Office Manager during office hours using the details below.
Contact
Office Manager
Phone: 01227 749570