Ivy's story is very much why we are here, to help people who might find the benefits systems overwhelming.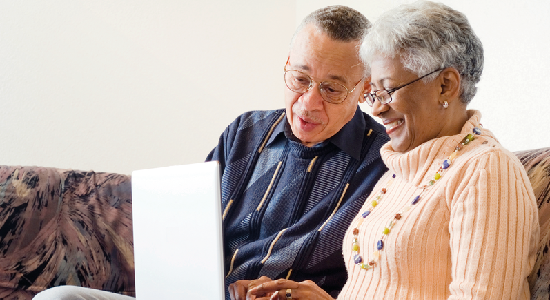 For many older people filling in forms can seem intimidating and complicated, often because of this they don't access benefits that they are entitled to. Our Information and Advice team work hard to help older people to access all help and support that they need, whether this is financial, practical or emotional.
Ivy is 84 and lives with her 85 year old husband in council accommodation. Ivy has two daughters who live locally and support their parents as much as they can with practical tasks and shopping. Ivy has various health conditions that make general day to day tasks difficult for her to manage. Her mobility is poor and walking can be painful and difficult for her. She relies on her husband for support and advises they help each other.
Ivy and her husband came along to an Age UK Hertfordshire benefit surgery drop-in, to see if they were entitled to claim any benefits. Neither were receiving any disability benefits. They had no savings and were paying full rent and council tax. Ivy and her husband were informed they were both good candidates to apply for Attendance Allowance, we agreed that a member of our staff would visit them at home to help with this. Ivy and her husband did not have Blue Badges and both had difficulties walking and need to use aids to support them.
Applications for Attendance Allowance and Blue Badges were made for Ivy and her husband. A full benefit check was completed for them. Both Ivy and her husband were awarded Blue Badges and she tells us these have made a real difference to them both. Ivy's husband still drives so this makes going out somewhere much easier as he can park nearer to where they need to be.
Ivy and her husband were both awarded Attendance Allowance at the lower rate. The award was back dated to the date of the original claim. Ivy advised she could not believe it and she was very grateful to us for helping her with this. Ivy advised she could not have done any of this herself.
We advised Ivy that now they had been both awarded, this would influence their entitlement to the means tested benefits. The full amount of all entitlement to Ivy and her husband from disability and means tested benefits over the course of a year will be approximately £13,195.00. This is a huge amount of money to them both and means the money they do have to live on will last them a lot longer and they will be able to continue to live independently at home, supporting each other, and use their money to buy the things they need to maintain this.
My husband and I are so grateful to Emma and her colleagues at Age UK Hertfordshire for helping us get to this point. The information and advice given to us along with the help filling out all the forms has been excellent. The forms and questioning are very difficult for me to deal with. I never expected to get so much help and the nicest thing is knowing we can call the Age UK Hertfordshire helpline any time and they are there to help you. Having already met Emma, it makes it more personable as you know who you are talking to, rather than just speaking to a person at the end of the telephone, who may not fully know your situation. I feel very lucky to live in Hertfordshire and have access to this service.
Ivy, 84
Would you like to find out how we can help you with your finances?