'How Age UK Hertfordshire have helped Roger to navigate the benefits system and gain more independence.'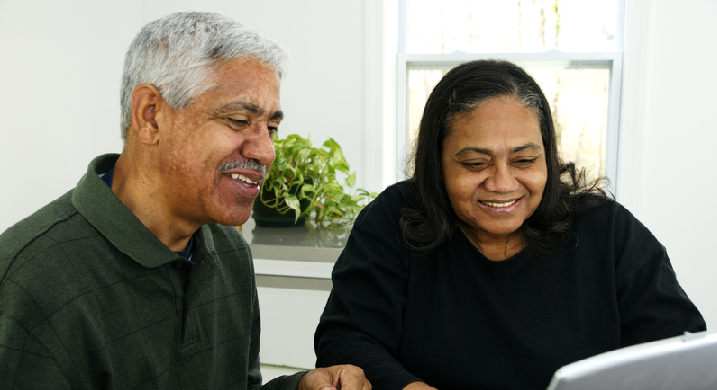 Roger is married and lives with his wife. He lives in a council property and they have lived there for most of their married life. He is supported day to day by his wife, who is his main companion and full time carer. The couple also have children that live nearby and their daughter visits most evenings.
Roger's wife referred him to Age UK Hertfordshire as she was concerned about their loss of income due to him having to stop working. Roger wanted advice as he was worried that they would be unable to pay for the rent and be unable to pay for the extra costs involved with him being disabled.
Information and Advice called and spoke to Roger and his wife. During the conversation it was clear that Roger was unaware of what entitlements may be available to him financially, and also what support he would be entitled to. Our Information and Advice worker supported him with the application and visited him at home to help with the completion of the form.
We also ran a Benefit Check for Roger and his wife and informed them that they would be entitled to some support. Roger said he felt relieved that his inability to work wouldn't affect their finances as much as he thought and that in fact he would be able to focus on his health without feeling guilty that he is disabled and unable to work. During the home visit our worker assisted Roger in the completion of his Attendance Allowance Claim form and explained the process and the waiting period for a decision. We also assisted Roger in the completion of a Blue Badge form.
Roger was not aware of his right to be assessed by the Local Authority to see if there is any support that can be provided in helping him with managing his personal care needs, and also to support his wife in his caring role. He was also not aware that they may be able to support with fitting aids and adaptations in the home.
We also advised on Carer support for his wife, as she was struggling to look after him. We also advised on local clubs and activities that Roger could go to, so he can remain socially active. After the visit, Roger was extremely happy and felt much less guilty that he is unable to be the "bread winner" and now feels as though he is not letting his wife down or putting too much pressure on her.
Recently we went back to visit Roger and found that he had a much better outlook and he was pleased to inform us that he has already been awarded his Blue Badge. He has already been able to put it to good use and feels much less anxious going out knowing that there will be parking nearer to where he needs to go and that there will be space either side of the car to allow him to get out of the car safely with the help of his wife and the use of a stick or crutch.
Roger told us that he has already had a visit from an Occupational Therapist and has managed to get an extra bannister rail fitted to the stairs and now has grab rails fitted. He tells me that this has been a life saver and that he feels he can now stay in his own home. Roger also told us that they are recommending him for a wet room, which he is extremely excited about as he hasn't had a "proper wash" for months.
"Age UK Hertfordshire have been brilliant. The staff are so friendly and you don't feel as though you are being looked down upon because you are asking for help…your member of staff has guided me through the process, as accessing all of this support is like a minefield if you don't know what you are looking for!...Since they visited, I feel so much better in myself".
Roger, 64