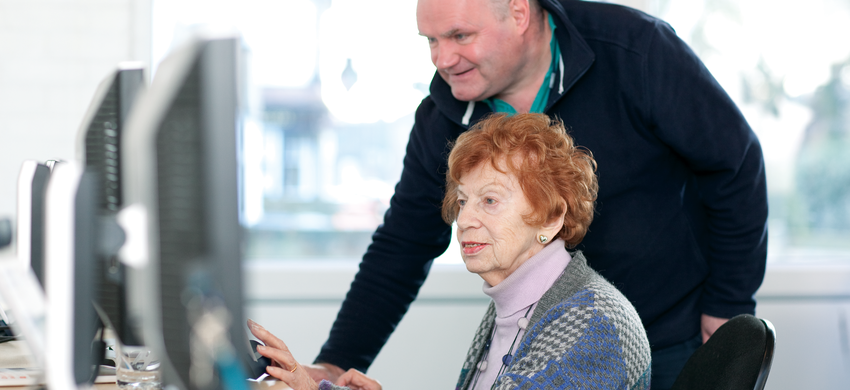 We rely on volunteers to help us offer vital services in the local community. Choose your preferred role below, and then click here to apply.
Volunteer Stories
Curious about volunteering? Let our volunteers tell you how they got involved with Age UK Hertfordshire.
Volunteer Resources
Information for new and existing volunteers.
Become a Trustee
Our Board of Trustees are experienced professional of various fields who volunteer in the governance of Age UK Hertfordshire and help us to achieve our strategic aims.
Become an IT Volunteer
Join our team of Outreach Volunteers helping older people with basic IT skills and completing forms.
Why volunteer?
Volunteering is a great way to meet new people, learn new skills, and support the work we do in the community.
Who can volunteer?
Almost anyone can be a volunteer. We have a wide range of roles which suit different people and different skills. Please refer to the individual role outlines for further information.
How much time do I need to give?
It depends on the volunteer role you are interested in; for example, our Visiting Scheme is very popular but it is only suited to volunteers who have some availability during the day time on weekdays. However, in general you can volunteer as much time as you have - some people give an hour a week, other people do more.
What else you can do to support us
Every donation makes a difference to the lives of the older people we support. Click here for more information about what Age UK Hertfordshire can do with your donation.

Could you help us to raise vital funds by hosting a fundraising event? Your fundraiser can be as simple or as creative as you like and your support is always much appreciated!
Volunteering Opportunities
Office/Admin Volunteers

We are always looking for volunteers who can support us in our office in Welwyn Garden City.

This could be in a range of roles:

Marketing
Reception
Volunteering
Fundraising
General Admin

We have a number of day centres throughout Hertfordshire where our clients come for the day and we provide them with activities and lunch.

We need volunteers to both help at these clubs and also to help our minibus drivers when they collect and pick up our clients.

For more about our Day Centre locations click here

Information and Advice Volunteers

Our Information and Advice Team are always looking for volunteers to help them in a number of ways:

We have roles for volunteers both in the office and out in the community.

Volunteering for this team would suit you if:

You would like to provide Information on benefits and other advice (we provide training)
You would be able to help an older person to get started with technology.
You would like an office admin role.

Hertswise Volunters (Dementia Specialists)

Our partners Hertswise are also looking for volunteers to help them in their dementia hubs – link to their website which has the locations.

They also need volunteers to help them with their marketing, this would involve attending the clubs and writing articles about them, posting on social media and so on.
Hospital Volunteers

Our Hospital and Community Navigation Service helps people who are in need of additional support or who are returning home from hospital.

We need volunteers who can help with this support.

Befriending Volunteers

Our Visiting Scheme Volunteers are matched with older isolated people who they then visit weekly (or as agreed) in their homes to offer some company.

You may also wish to take a client out for a coffee or to a garden centre.

Telephone Befriending

This is similar to the Visiting Scheme except that the volunteers are matched with a client who then they call at an agreed time each week.

InTouch Volunteers

Our In Touch scheme provides telephone support to older people who are facing a life changing or challenging situation.

We need volunteers who are good listeners to help us with these phone calls.