Hot Weather Warning and Advice
Published on 09 August 2022 10:19 AM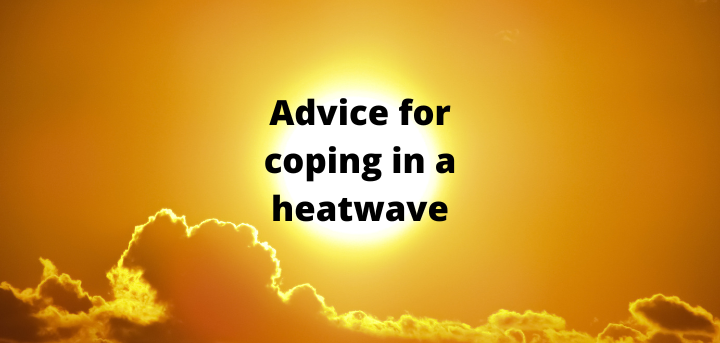 The

MET Office

has

issued Amber warnings of very high temperatures from Tuesday to Sunday this week. This means there are significant health risks to vulnerable groups such as Older People.
Why is hot weather an issue?
Many people enjoy hot weather but there can be serious health problems caused by too much heat and vulnerable groups are particularly at-risk in prolonged hot spells. In England, there are on average 2000 heat related deaths every year.
Basic advice for keeping safe and cool during a heatwave.
Keep windows that are exposed to the sun closed during the day and pull down the shades when it is hotter outside. Windows can be opened for ventilation when it's cooler.
Avoid the heat: stay out of the sun and don't go out between 11am and 3pm (the hottest part of the day) if you're vulnerable to the effects of heat.
Keep rooms cool by using shades or reflective material outside the windows. If this isn't possible, use light-coloured curtains and keep them closed (metallic blinds and dark curtains can make the room hotter).
Have cool baths or showers, and splash yourself with cool water.
Drink cold drinks regularly, such as water and diluted fruit juice. Avoid excess alcohol, caffeine (tea, coffee and cola) or drinks high in sugar. Eat cool foods such as salads.
Listen to alerts on the radio, TV and social media about keeping cool.
Plan ahead to make sure you have enough supplies, such as food, water and any medications you need.
Identify the coolest room in the house so you know where to go to keep cool.
Wear loose, cool clothing, and a hat and sunglasses if you go outdoors.
Use plants and bowls of water to keep rooms cool.
Do not do too much exercise.
Beat the heat: staying safe in hot weather - GOV.UK (www.gov.uk)
Can't find what you are looking for?
If we don't provide it, we probably know someone who does.