Whether you're a school, community group or an individual looking to raise money for Age UK Hillingdon, Harrow and Brent, we will do our best to support you. Contact us and we will help you every step of the way.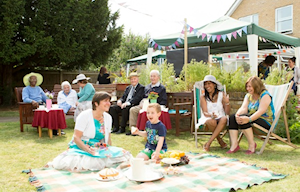 In Celebration
Celebrating a special birthday, anniversary or retirement? Think of Age UK Hillingdon, Harrow and Brent and make the celebration count that much more! Asking for donations in lieu of gifts is an inspiring way for family and friends to mark your special occasion and help our work.
Wedding – Accept donations made to Age UK Hillingdon, Harrow and Brent in lieu of wedding gifts. Thank your guests by using our pin badges as wedding favours.
Milestone Birthday – Have a big birthday coming up? We can send you balloons, donation boxes and posters to help raise awareness of our work.
Christmas – For many, the Festive period can be a very isolating time. Help to continue our services by donating the money you would spend on Christmas cards. Family and friends can also show their love and care during this time by making donations to Age UK Hillingdon, Harrow and Brent in lieu of gifts.
Schools, Colleges & University/RAG fundraising
Fundraising within your school is a great way to get involved with Age UK Hillingdon, Harrow and Brent from non-uniform days to cakes sales, the choices are endless.
For parents: Contact your child's school and see if they are willing to do a fundraiser in aid of Age UK Hillingdon, Harrow and Brent.
For teachers: Fundraising is a great way of getting children to work together whilst supporting a worthy cause, whilst giving your pupils a real sense of achievement when they have reached your fundraising target.
For Universities/RAG: RAG Raid bucket collections are a great way to have fun and raise money at the same time.
Some great fundraising ideas for schools are:
Wear a Woolly Day – Help to keep older people warm this winter
Non-Uniform Day – Ask pupils to donate a £1 to wear their own clothes to school. Get teachers involved too by asking them to wear school uniform.
Book sale – Ask pupils, parents and teachers to donate their used books to the school, then hold a book sale where all proceeds go to Age UK Hillingdon, Harrow and Brent.
Host a ticketed show: like a concert, play or dance at the school auditorium with a percentage of the proceeds going to Age UK Hillingdon, Harrow and Brent.
We will support you all the way by staying in regular contact and providing balloons, posters and donation boxes to help raise further awareness.
Group Fundraising
Do you belong to a group, club or community organisation? Are you a member of a Golf Club or a Rotarian? Are you a member of the WI?
Support Age UK Hillingdon, Harrow and Brent by asking your club or group to choose us as your nominated charity when you hold a charity event such as a Golf Day or Fete.
We are more than happy to come and speak to you all to tell you about our work and to give out information packs.
Collection Tins
Own a shop? Request a collection tin to place by your counter or the front desk and ask people to donate their loose change.
If you would like to discuss in more details please call us on 0208 756 3040 or click here