Computer Training for Older People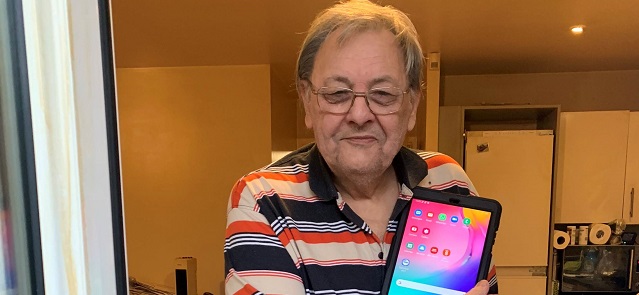 We can loan you a tablet and our trained volunteers will teach you how to use it. Service available to people aged 70 and above'
(Brent Only)
We live in a day and age where being able to "do things online" is becoming increasingly essential, however for many older people using a computer is daunting and scary. This has been a particular issue during 2020 due to the COVID-19 restrictions with many older people shielding for long periods of time and seeing very few people. While younger people have been using computer programmes to meet up with friends and family, many older people have been left behind. Are you one of these? Do you even know what "Zoom" is? Would you like to learn some computer skills, however need support? If so, we can help.
With the help of our carefully vetted and trained volunteers, we can train older individuals, including you, to meet with family and friends using computer programmes such as Zoom, Facetime and Whatsapp. These programmes may seem scary to you, however with support you can learn how to use them. Our volunteers will work at your pace, teaching and supporting you to learn what is important to you, whether this is shopping safely online, video chatting with friends and family, finding information and many other tasks.
Quotes from Older People
Margaret

"I find this service to be excellent. For someone who is doing this for the first time, the volunteer I am working with has helped me learn a lot"

December 2020

Frank

"Age UK HHB's programme to help the elderly, I find very helpful for people who don't understand computers. The volunteer has gone through the basics with me and slowly but surely I am picking up momentum".

December 2020

Our Graduates 2021!
Contact Dee, Project Manager
Please do not hesitate to contact Dee to have an informal chat about computer training for older people and whether it is for you. Phone her on 07710 149309