Charity's new Neighbourhood Watch Plus service enables islanders to feel safer in their communities
Published on 04 October 2018 10:32 AM
A new project which aims to work closely with local Neighbourhood Watch schemes across the island has been successfully launched at an event in Ryde.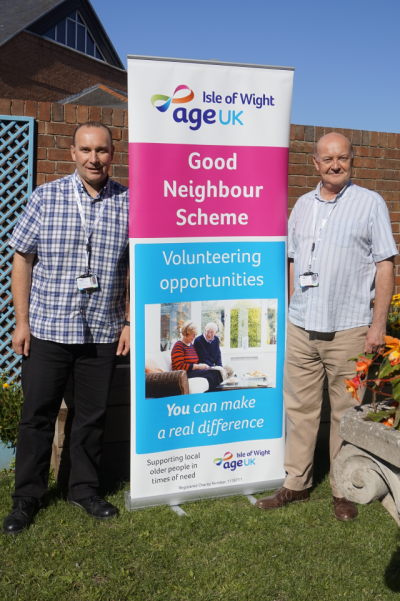 Age UK Isle of Wight's new 'Neighbourhood Watch Plus' project sets out to provide volunteers with free support and training on crime and scams prevention. Trained volunteers will visit households within their communities, to carry out Crime Prevention surveys, and will offer useful advice and information on how to improve the security of their home, boundaries and property.
The local charity is working alongside Hampshire Constabulary, Isle of Wight Council, Trading Standards and Resilient Communities Group to develop training packages, which will help to establish local experts in crime trends, scams, safeguarding, hate crimes and other aspects of crime and vulnerability. The new service was launched at an event held at Ryde Police Station on 26th September, which and attended by Neighbourhood Watch Co-ordinators and local police.
Steve Howes, Development Officer for the Neighbourhood Watch Plus project commented "This is a fantastic opportunity for anyone who already runs or would like to start a Neighbourhood Watch group in their community, as we are providing free support and training to make island communities a safer place to live and work".
"We recognise that many agencies provide much of their crime prevention information online, which can leave those without digital skills feeling excluded. By replicating our Digital Inclusion project, we can ensure that people receive face to face help and advice, to help them feel safer in their homes".
Householders will be provided with a copy of their Crime Prevention Survey, in order that the results can be discussed with family and friends, before taking the advised actions, enabling the client to have full control over when and how they implement any improvements.
If you would like to learn more about the Neighbourhood Watch Plus project, or you are interested in becoming a volunteer for the scheme, contact Steve Howes at Age UK Isle of Wight on 01983 525282 or steven.howes@ageukiw.org.uk
(Pictured: Steve Howes, Development Officer for the Neighbourhood Watch Plus project, and Mark O'Sullivan, Good Neighbour Scheme Team Leader)