First Ever Isle of Wight Shed Fest Takes Flight
Published on 06 June 2019 12:16 PM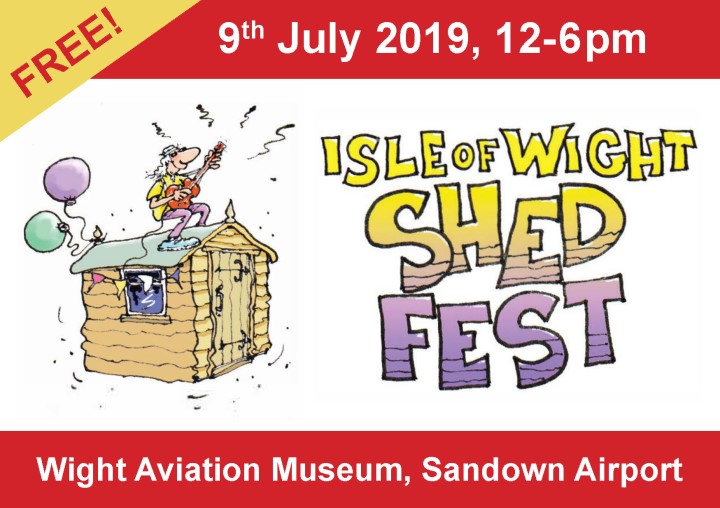 The Island has become well-known for its fabulous festivals, but a festival of a different kind is set to rock the Island this summer.
Age UK Isle of Wight has announced that 'Isle of Wight Shed Fest' will take place in July, in celebration of the Men In Sheds movement, and to share the achievements of the Island's Sheds. It will be hosted by the Wight Aviation Museum at Sandown Airport, (home to one of the Sheds), on 9th July, and will be opened by the Island's High Sheriff, Geoff Underwood.
Isle of Wight Shed Fest is a free event, bringing together Shedders from across the Island and the south of England, with a host of live, local music, including musicians from the Acoustic Music Sheds, plus stalls, information stands, activities, speakers and refreshments.
Festival goers will be able to find out more about the impact of Sheds in their neighbourhood, how to become a Shedder, how to set up their own Sheds, and how Sheds have personally helped the Shedders, and their communities. It will also be a good opportunity to pick up some second hand tools at bargain prices and a few other handmade and home grown items too!
Lois Prior, Men In Sheds Co-ordinator at Age UK Isle of Wight commented, "This is my 5th year working with the Sheds, and during this time I have been privileged to see and experience the amazing ways that Sheds make a real difference to members and their communities. Shed Fest will be a great opportunity to showcase and celebrate their achievements, by bringing them all together in one place, to swap stories and learning, and be an inspiration to future would-be Shedders. I hope that with the ongoing development of an Islandwide Shed network, Isle of Wight Shed Fest could be an annual celebration of the Men's Shed movement".
Sheds are groups of men, working together to improve their own social networks, health and wellbeing, and often support their local communities through individual community projects. The Island currently has 14 Sheds which were facilitated by Age UK Isle of Wight (funded by the National Lottery Community Fund), plus 2 additional, independent Sheds.
The Island's Sheds are some of the most diverse in the UK; each has its own identity and theme, including music, woodwork, engineering, gardening and history.
Isle of Wight Shed Fest will be held at Sandown Airport on Tuesday 9th July from 12:00 – 18:00, admission is free. To find out more, contact Lois Prior (Men In Sheds Co-ordinator) on (01983) 525282 or shedfest@ageukiw.org.uk
You can also find out more about all of our Men's Sheds and discover your local shed here: Men in Sheds