Age UK Isle of Wight is embarking on an exciting, free activities programme which will offer new social opportunities to combat the effects of the pandemic and boost wellbeing.
By connecting with us, people will regain social skills and develop new networks. Each week we will deliver an exercise class or similar activity to encourage being active. Themes of the sessions will vary each week, covering aspects of heritage, wildlife, poetry, and creative writing, to name but a few, so that our audience will be keeping their brains active by learning something new. Helping us to create and deliver the activities will be our volunteers and we will offer new volunteering opportunities and encourage everyone to be supportive during interactive sessions.
The key to wellbeing is mindfulness; we will take time to notice the contributions of everyone, celebrate the learning journeys that our audience takes and promote an inclusive ethos. Our programme will build from an initial three sessions each week, depending on uptake.
Our Activities Programme launched the week commencing April19th - see two weeks shedule below!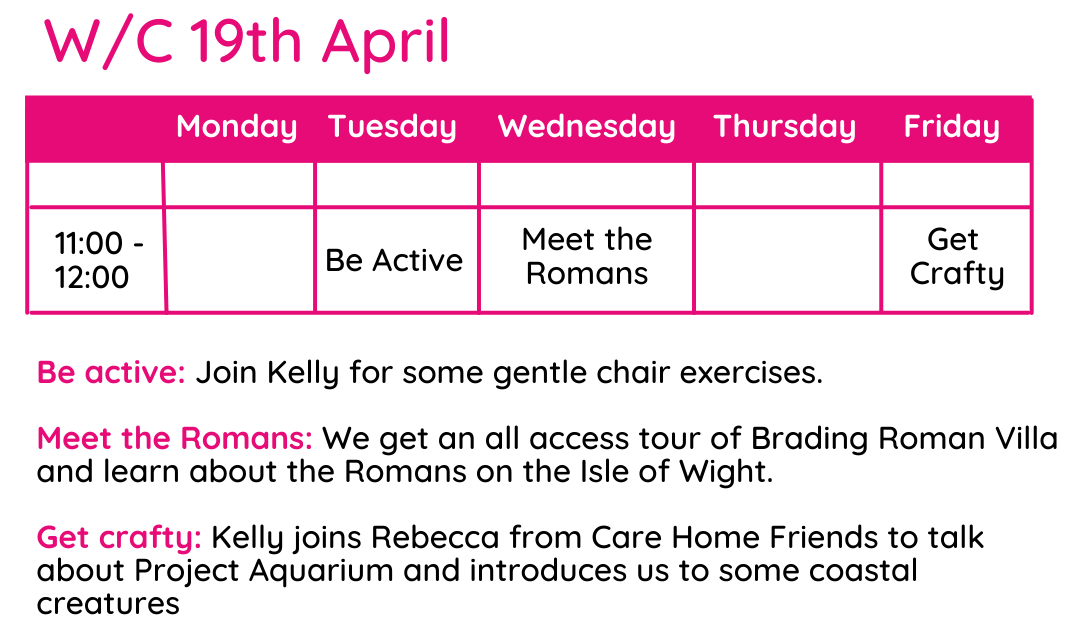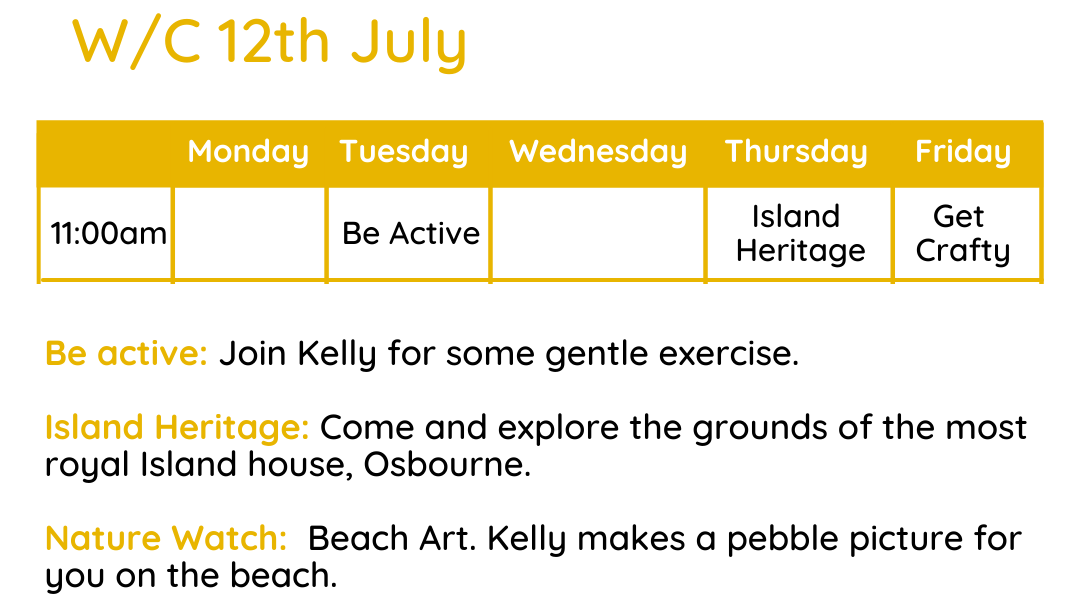 ---
Sessions will be available via Zoom and you can also watch at your leisure on our YouTube channel. As well as through the Kraydel Konnect system. There will also be a monthly fully interactive activity session, whereby we will supply a pack of resources for use within the session.
Our Digital Inclusion Project offers one to one support for those who may need some additonal support getting online to join our virtual activities programme.
If you do not currently have any access to technology but would like to get involved, get in touch with Claire our Digital Incusion officer today by calling (01983) 525282 to find out more about our iPad Loan services and also our Kradel Konnect project.
---
Our activities programme is launching virtually, due to the current restrictions of the pandemic and also to ensure accessibility for all. We plan to begin to host some group activities face to face, once restrictions allow, but will also continue to host virtual sessions so that anyone, in any situation, can continue to participate.
Each session will be popped on to our YouTube Channel that we are calling Thrive TV - To give you an idea of what our online sessions will be like, you can watch our three short taster session videos below featuring a local nature walk, a tour of a local heritage site and a practical craft session.
---
Each session can be accessed at any time by visiting out YouTube Channel (they will also be uploaded to Konnect devices).
Get In Touch
For more information about joining one of our activities, contact Kelly our activities co-ordinator by calling us on (01983) 525282 or by pressing the pink button to email us  today.