Meet friends, make stuff, drink tea.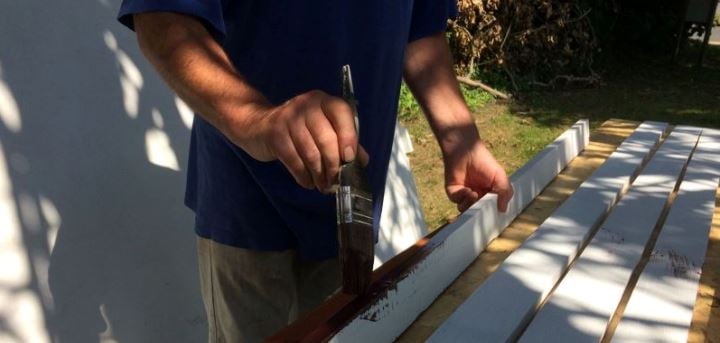 The location and details of our Men's Sheds:
Monday: Brighstone 10am to 12pm. Shanklin 2pm to 4pm.
Tuesday: Sandown Engineering Shed 10am to 12pm. Sandown Aviation Shed 11am to 1pm. Bembridge 2pm to 4pm.
Wednesday: Newport 1pm to 3pm. Newport Music Shed 6.30pm to 8.30pm.
Thursday: Brading 10am to 12. West Wight 2pm to 4pm (10am to 1pm in winter).
Friday: Wootton Music Shed 2pm to 4pm. Nettlestone & Seaview 2pm to 4pm.
Find your local Men's Shed
Bembridge Shed
Meets every Tuesday afternoon, 2pm to 4pm. They are currently awaiting delivery of their shed to its final site at Steyne Road. In the mean time the men meet at the Scout Hut, Mitten road, Bembridge.
Brading Shed
Meets every Thursday morning, 10am to 12pm, at Brading Youth Centre (opposite the big car park in Brading High Street). This shed is located within the Youth Club building and as well as having its own work space, part of its remit is to help maintain the building itself. Parking to the rear is free.
Brighstone Shed
Meets every Monday, 10am to 12pm, at Brighstone Grange, Pitts Place, Brighstone. This is our first shed located in the grounds of a care home. The men are currently in the process of fitting out the shed, a former garage in the grounds.
Nettlestone & Seaview Shed
This shed meets twice a month but currently has no permanent place for meeting, please get in touch if you would like more information.
Newport Shed
Meets every Wednesday, 1pm to 3pm. An oasis of sawdust and calm in the very heart of Newport, this shed is perhaps the most surprising. Located to the rear of the Age UKIW Office (to the immediate left of County Hall), the Newport Men's Shed provides a space for woodworking and gardening. As a bonus, the last Wednesday of the month is our 'Blokes Bacon Butty and Banter' group meeting. Food is free, but a donation is always welcome.
Sandown Aviation Shed
Meets every Tuesday, 11am to 1pm. Located at Sandown Airport at the Wight Aviation Museum (please follow the signs). This 'shed within a museum within a hangar' is an ideal place for the aviation enthusiast (or even retired rocket scientist!). As well as island aviation history, the museum is also host to the island's ventures into orbit, with the Black Arrow project. This shed helps so support the museum through construction of sets, displays and models, as well as providing a space where the shed men can do their own thing.
Sandown Engineering Shed
Located at the now abandoned power station that served Browns Golf Course when it was firsts opened, this shed is ideal for the retired heavy engineer. Restoration work on the machinery and building is bringing this once neglected place back to life. This shed is currently full (due to limits on numbers for insurance and H & S reasons). Please get in touch if you would like to find out more about this shed.
Shanklin Shed
Meets every Monday, 2pm to 4pm, at the YMCA Winchester House, Sandown Road (by the skew bridge). This shed is a busy place with a dedicated workshop and a lot of enthusiastic shed men. There is also gardening. As well as working on their own projects, the shed men here have also undertaken local community work, including the YMCA and the Isle of Wight Zoo. Park in the YMCA car park and walk towards reception (signed). The shed is on your left as you walk along the alleyway to the front of the building.
West Wight Shed at Totland
Meets every Thursday, 10am to 1pm (winter at Fort Victoria), 2pm to 4pm (summer at Totland) Our most westerly shed has its summers on Turf Walk, at a former groundsman's workshop (thanks to Totland Parish Council). During the colder and darker winter months, the shed meets at the Corner Room at Fort Victoria. Their current project is building a replacement sentry box that once stood at the Fort.
Acoustic Music Sheds
Meets Wednesday, 6.30pm to 8.30 at the Isobel Centre, Pan Estate (opposite the Chip Shop) and on Fridays 2pm to 4pm at Old School, New Road, Wootton. These sheds are unique to the island and as far as we are aware, the only dedicated music sheds in the country. If you play guitar, ukulele, bongos, or any acoustic instrument, or even just enjoys singing, this could be the shed for you. Just turn up, bringing your instrument (or voice) with you. Music sheets are provided (with chord tabs). There is a charge to these sheds to cover the cost of venues and beverages. Wednesday nights (Newport) - £3, Friday afternoons (Wootton) - £2.
Would you like to join a Shed?
More information on the Men in Sheds movement on the Island can be found on the website: www.iowsheds.weebly.com or on Twitter: @IOWShedMen.