Sandown Aviation Museum Shed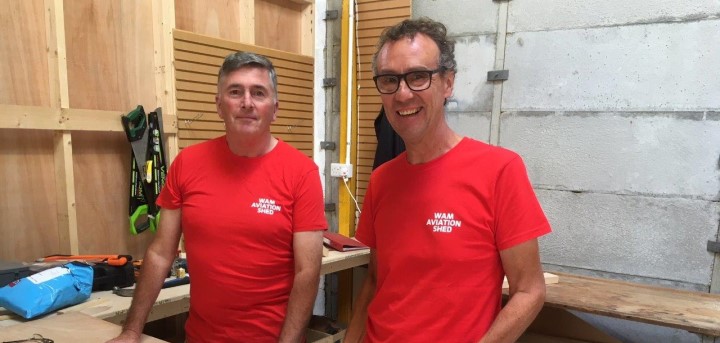 The Wight Aviation Museum Shed is a shed with a difference. Located within the museum hangar itself, the shed forms an integral part of the Aviation Museum, providing practical support as well as a place where the members can pursue their own interests and hobbies.
The shed members and its resources are heavily involved with helping the volunteers of the Wight Aviation Museum to create this amazing space. Once the museum is open to the public, the shed will still be useful, as it can be utilised to create items to sell as well as maintaining the museum itself, and of course as a regular men's shed.
This is an ideal space if you have a keen interest in aviation, rockets or just enjoy a different challenge!
This shed meets every Tuesday morning from 11am to 1pm at the Aviation Museum Hangar, Sandown Airport (head into the airport, turn right to the hangars, we are the third hangar along. View Map.
To find out about your local Men's Shed please contact Lois on: (01983) 525282 or email: lois.prior@ageukiw.org.uk.

This project is part of the Age Friendly Island partnership. Age Friendly Island is part of Ageing Better, a programme set up by The National Lottery Community Fund, the largest funder of community activity in the UK. Ageing Better aims to develop creative ways for older people to be actively involved in their local communities, helping to combat social isolation and loneliness. It is one of five major programmes set up by The National Lottery Community Fund to test and learn from new approaches to designing services which aim to make people's lives healthier and happier.