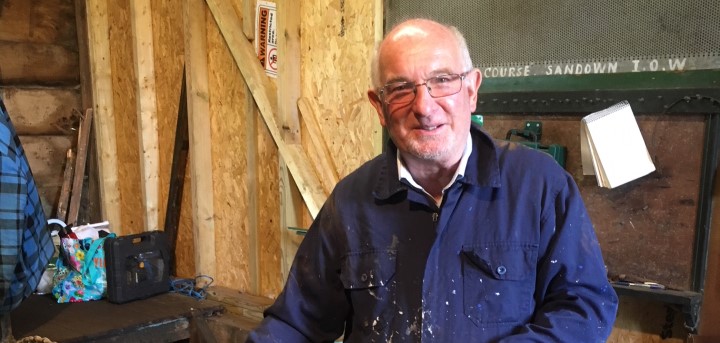 Located at the now abandoned power station that served Browns Golf Course when it was first opened, this shed is ideal for the retired heavy engineer. Restoration work on the machinery and building is bringing this once neglected place back to life.
Unfortunately, due to Insurance reasons, and the size of the shed, we are currently unable to take on new members. However, please do get in touch with Lois on (01983) 525282 or email: lois.prior@ageukiw.org.uk and she will be able to give you more information on the shed and membership.
History of the Sandown Engineering Shed
Browns Family Golf Course was created by the golfing legend, Henry Cotton. A world-famous golfer of his day. Power was needed on site to serve the club house and water the greens, and so two Ruston machines were installed, which are still there to this day, untouched for over 50 years.
A grant was found to help make the building housing the machinery watertight once again but there was little funding to restore the machinery itself. Men in Sheds was approached to see if we could help. So, we managed to get a group of retired engineers to come along to see if this is a project that would interest them, and we are pleased to say that it most certainly does!
This shed has kindly been supported by ARC Consulting, Down to the Coast and Ecclestone George, as well as Browns Golf Course.

This project is part of the Age Friendly Island partnership. Age Friendly Island is part of Ageing Better, a programme set up by The National Lottery Community Fund, the largest funder of community activity in the UK. Ageing Better aims to develop creative ways for older people to be actively involved in their local communities, helping to combat social isolation and loneliness. It is one of five major programmes set up by The National Lottery Community Fund to test and learn from new approaches to designing services which aim to make people's lives healthier and happier.