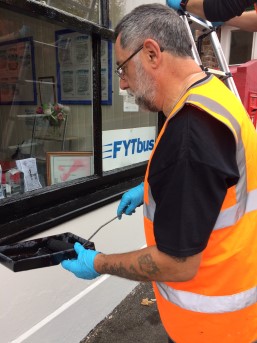 The West Wight has a shed to call its own! Supported by Totland Parish Council, this men's shed is currently in the process of converting the old changing rooms into a workshop and social area located in the old changing rooms at the recreation ground. This busy shed has a large range of tools to play with and are active in the community.
The West Wight Shed meets every Monday, Wednesday & Friday from 10am to 3pm at the recreation ground, Bowling Green Lane, The Broadway, Totland, PO39 0AS. You can just turn up and help out, or grab a cuppa and a chat.
You can also keep up to date with the West Wight Shed on their website.

This project is part of the Age Friendly Island partnership. Age Friendly Island is part of Ageing Better, a programme set up by The National Lottery Community Fund, the largest funder of community activity in the UK. Ageing Better aims to develop creative ways for older people to be actively involved in their local communities, helping to combat social isolation and loneliness. It is one of five major programmes set up by The National Lottery Community Fund to test and learn from new approaches to designing services which aim to make people's lives healthier and happier.