The Age Friendly Island (AFI) project works towards

creating an environment where the Isle of Wight

community is set up to help older people live safely, enjoy

good health and stay locally involved.

​
The AFI team work with Island organisations and older
Islanders to deliver projects to make the Isle of Wight
more Age Friendly. There are lots of ways to get involved
from signing up to our Charter to becoming a member of a
steering group, for example. You can make a difference.
Island Organisations

The AFI project is driven by

a steering group of Island

organisations from the

public, private and

voluntary sector dedicated

to driving forward projects

that endeavour to influence

strategy and policy.

Older Islanders

The voices of older people

are at the heart of the AFI

project and have

determined the focus of the

work through public forums

and steering groups. We are

always looking for new

members.
About Us

The AFI team are part of

Age UK Isle of Wight and

began working on the

project in 2015 following a

successful bid to the

National Lottery

Community Fund.

Our Work, Past & Present

Our work has engaged

Island organisations and

members of the public

alike. We have achieved a

lot so far with the aim of

creating a long-term

cultural shift.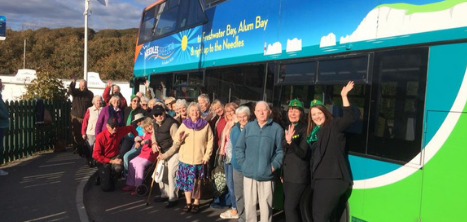 UK Network of Age Friendly Communities
​
Made up of over 40 cities, towns, boroughs, districts,
counties and city regions working together to share learning
and promote age-friendly practices. Coordinated by the CAB.
Valuable not Vulnerable
Find out about Age Friendly Island's campaign against ageism; info about local resources, policy & law, interventions and events/forums.
---

Age Friendly Island is a project led by Age UK IW and is part of Ageing Better, a programme set up by The National Lottery Community Fund, the largest funder of community activity in the UK. Ageing Better aims to develop creative ways for people aged over 50 to be actively involved in their local communities, helping to combat social isolation and loneliness. It is one of five major programmes set up by The National Lottery Community Fund to test and learn from new approaches to designing services which aim to make people's lives healthier and happier. Some of the photos used across our AFI Pages were kindly provided by the Centre for Ageing Better Licence to use can be found Here