Age Friendly Island Current Projects
The Age Friendly Island (AFI) project is funded by the National Lottery Community Fund and we are currently in our 7th and last year of funding. We have a number of current projects we will complete this year and you will find further details below. We work with Island organisations and older people to co-produce this work. If you would like to be involved do get in touch.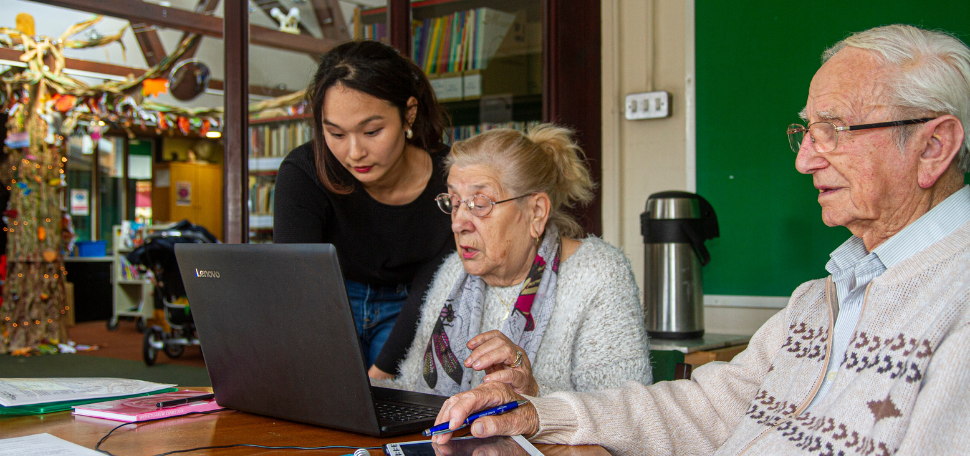 ​Digital Connectivity
The group works to encourage organisations to work in a consistent, co-ordinated way, to ensure that people who want to become or remain digitally connected, can do so. The group has four sub-groups working to deliver the overall goal.
The following organisations are involved in the Digital Connectivity steering group:
Adult and Community Learning
Age Friendly Island
Age UK IW
Barclays Digital Eagles
Census 2021
Citizen Advice Bureau
Independent Arts
IWC
Seaview and Nettlestone Parish Council
3 Ts Project
Sight for Wight
Sovereign Housing
Trading Standards
West Wight Hub
Wightfibre
There is currently a survey running for members of the public to let us know what is working and what needs improving. This will shape the ongoing work.
Find out more about our Digital Survey
---
​Environment
The group provides feedback for how public spaces can be adapted to help with social distancing and ensuring Age Friendly principles are met. These adaptations are a direct response to Covid-19 with the easing of lockdown and the implications this has.
The group created a set of 'Out & About' Cards with the IWC to help people to feel more confident to navigate social distancing and other Covid-secure measures that are now in place.
Find out more here:
Out and About Cards | Centre for Ageing Better
The group will also be working with the Heritage Action Zones in Newport and Ryde to give a voice to the issues and concerns of older people during the consultation phase.
---
Employment
The group is currently focusing on the work of the Centre for Ageing Better's toolkit.
---
​Celebrating Age Festival
The Celebrating Age Festival was last held in 2019 and has been on hold during the COVID-19 pandemic.
This year we are linking to the national campaign focusing on Valuable not Vulnerable.
Find out more about previous festivals
---
The photo above was kindly provided by the Centre for Ageing Better. Licence to use can be found HERE