David's Art Journaling Experience
David's Art Journals
"I am a carer for my partner who has C.O.P.D. and is a high risk patient regarding COVID-19. He had a stroke last year and developed a lot of anxiety due to the situation. He had also started losing his memory, but the doctor said the memory loss was due to old age.
At the time I did not know what to do. I was not working, I was under strict covid rules (making my own mask at the time, checking all the goods that were delivered to the house), the tension was building up and our anxiety went through the roof (Trump election).
At the time I was filling up a form for unpaid carer credit that I needed signed by a medical professional (I didn't know that GPs did not do this). However, I found Age UK Islington online and from there the slow process of finding out information started. I'm very grateful for all the support I got from them.
It started with a nice volunteer who gave a ring to remind me of the steering group coming up. The unpaid Carers Rights Open Day which pointed out different options and opened up a conversation about subjects I did not know about (the Stress Project, Citizen's Advice etc), the support group where you meet other unpaid carers and you get more information (COVID-19 situation), the Carers Assessment team where you get tailored and practical information including the income maximation team (about my application form), the Age UK Activity Team and the newsletter.
I chose Art Journaling with Jeanne and happy cooking with Natascha from the Age UK Islington activities. Those two classes give me some enjoyable time and helped alleviate my personal anxiety. I also found the walks in Cally park though the newsletter and those walks inspired some the work I did with Jeanne in the Art Journaling class (tree bark).
"In the group, it's great that you get some advice from a very nice tutor, Jeanne who has a lot of skill. There is always the opportunity for a chat."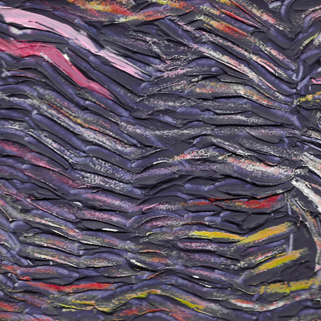 "I have been able to use some textures from the Park Walks that I was doing in the autumn before lockdown, and to make my art journal a three dimensional experience."