Keeping Creative: Art Journaling
By Age UK Islington Volunteer, Samuel Clark
With the repercussions of a global pandemic being felt across our communities, this past year has been a challenging time for everyone. With that in mind it has been essential to find ways to connect with each other throughout the lockdown. One such way, borne out of passion and dedication is Art Journaling.
Jeanne Pring is a carer and Dementia Friends Champion based in North London who has been instrumental in the development of the Art Journaling workshop. She cares for her 83 year old mother-in-law Connie who lives with the advanced stages of dementia. Jeanne had already been running the dementia inclusive cafe StAn's Cafe from her parish church St Andrew's in Islington since 2018. Read Jeanne's story of setting up Art Journaling.
To see a fabulous array of artworks that have been produced during the sessions, see Age UK Islington's instagram account: www.instagram.com/ageuk_islington/
New members are always welcome. To join the Art Journaling group, please email Carmen, Activities Co-ordinator, on CAlcovedes@ageukislington.org.uk.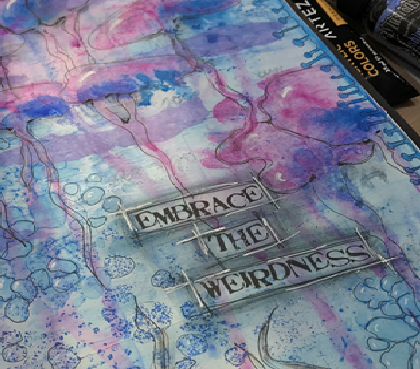 Art Journaling Experiences
David came to Age UK Islington for some help with a Carer's Credit form and Art Journaling was one of the many things that he found on his journey. David speaks about how it has been a creative catalyst.

Michele kindly spoke with us about her Art Journaling experience. She told us of the struggle everyone felt when the lockdown began and how the workshop has provided a much-needed creative outlet.