Ruben's Painting Appreciation Experience
Ruben grew up in West London and fell in love with art after visiting the home of a family friend in his youth. The friend in question was an artist and had many works of art around the home. It was this introduction to art that completely inspired Ruben! He has spoken of his memories of sketching regularly in 'the park of his childhood' Hampstead Heath. He also uses his talent for sketching to produce some beautiful artworks during the sessions.
'I'm trying to listen and sketch at the same time. It can be quite demanding but also interesting. There are a few people that draw and we produce very different things. I like that.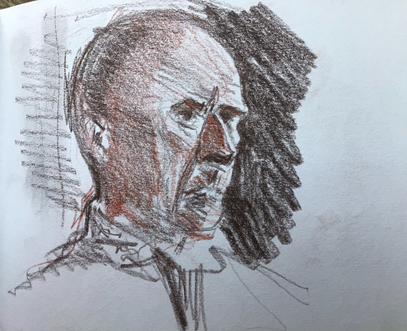 ©Ruben Flores
He has also contributed to The Claremont Project as well as taking part in a puppet-making workshop with Age UK Islington. He spoke about the valuable connections he's made through these groups and also how he feels that online events such as these have further connected the world.
'This has kind of brought in the whole world, you know. You talk to people right across the world with this.'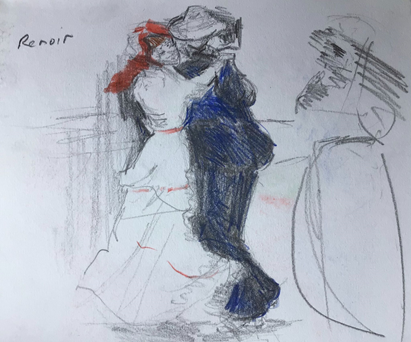 ©Ruben Flores
A recurring theme when speaking with members of the Painting Appreciation group is the balance between the formal and informal. Participants seem to feel quite comfortable in the sessions and offer their views quite readily. Ruben greatly enjoys the lively discussions.
'I've never raised my hand, I just come in. I don't think I'm breaking protocol!'