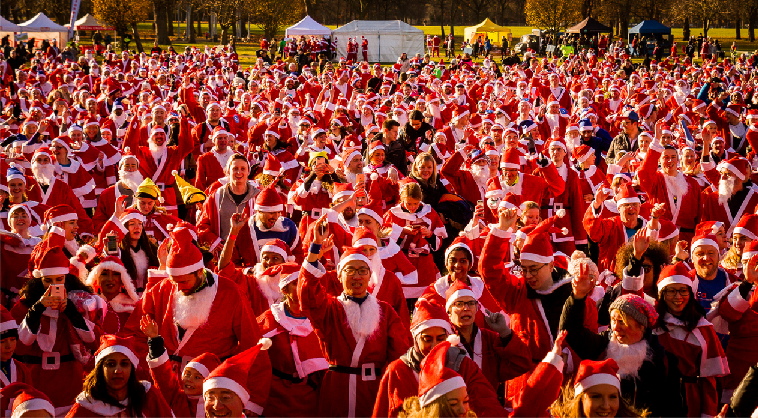 Picture taken from Santa Run Gallery.
We are looking for you!
Following on form the wonderful success we have had with the Royal Parks Half Marathon. We are looking for runners to take part in the upcoming Santa Run taking place on the 8th of December 2019.
As an organisation, our service users are at the heart of everything we do, and we ensure that they are listened to and given a voice. Your support and the money raised will go towards providing these services, and ensuring that we are able to reach more, older people across Kensington and Chelsea.
Location
Victoria Park
Date
8th of December 2019
Q&A
Q: Who can take part?
A: Everyone! The route is both wheelchair and pram friendly.
Q: Do I need to bring a Santa suit?
A: Santa Costumes are FREE and collected on the day of the event! You can also dress an elf, reindeer, snowman etc. as long as it's Christmas themed!
Q: Do I need to train for this?
A: You don't have to have previous running experience, as novices are welcome, however we do recommend that you do some training for your own comfort and enjoyment, you can download a guide from the Santa Run website HERE.
You can run, jog or walk at your leisure for the 5k or 10k challenge. It's the taking part that counts!
Q: Do I need special equipment?
A: All you need are a good pair of running shoes, and maybe a water bottle. However make sure to get your trainers a head of time to get accustomed to them, to make sure you're as comfortable as possible during the run.
Q: What will I need to do?
A: Book a place HERE! And pledge to raise a minimum of £100 for the charity of your choice. If you have any questions, please contact our fundraising team HERE, they are happy to help.
Q: How can I fundraise?
A: Although it can be daunting, it's important to remember that this is for a good cause, let your friends and family know, and most of all enjoy yourself!
Here are some tips to fundraising:
Create an online fundraising page; great websites for this are Just Giving and Virgin Money Giving, they're easy and convenient.
Utilise your social media; this is a great method to self-promote and let everyone know what you're up to, also don't forget those hashtags; they're a great way to reach a wider audience.
Hold a charity event; treasure hunts, quiz nights, bingo, bake sale, football games etc. Play to you strengths to organise an event to get people excited and involved!
For more information please click on the link below...