Veterans Art of Isolation Exhibition
Published on 14 September 2020 03:40 PM
Calling all creative veterans
We are looking for veterans, their family and carers, to share ideas and creations you have produced during the Covid19 pandemic, to form part of a new funded "Veterans Art of Isolation" exhibition.
We are asking for any veteran over 50 (yes the young ones too!) or their family or carers to share their creative activities from these past months of isolation along with one or two paragraphs describing how and why these activities came about during these strange times.
A veteran is categorised as someone who as provided at least one day of service, for example, National Service, RAF, Army, Navy, TA along with Merchant Navy.
The work itself can be submitted as photographs, writing, audio or film with the descriptions included in the body of the email. This material will form the basis of the exhibition exploring the work and the stories behind them.
Project coordinator and local storyteller, Jacqueline Harris said: "Whilst everyone has their own story to tell about this year, personal stories from the older generation are not as widely represented across the media. There are plenty of stories about what isolation and other challenges of lockdown have meant for the older population, but very little in their own words and pictures. This is an opportunity to share and make visible personal stories and imagery so that these voices are heard and not forgotten."
Funded by the Armed Forces Covenant Trust, the project has now launched and will run until March 2021. Similar to our previous Art of Isolation project, which focused on people's creations in and stories of lockdown, this new one focuses specifically on older veterans in Lancashire and how they have dealt with lockdown and uncertainty during the pandemic.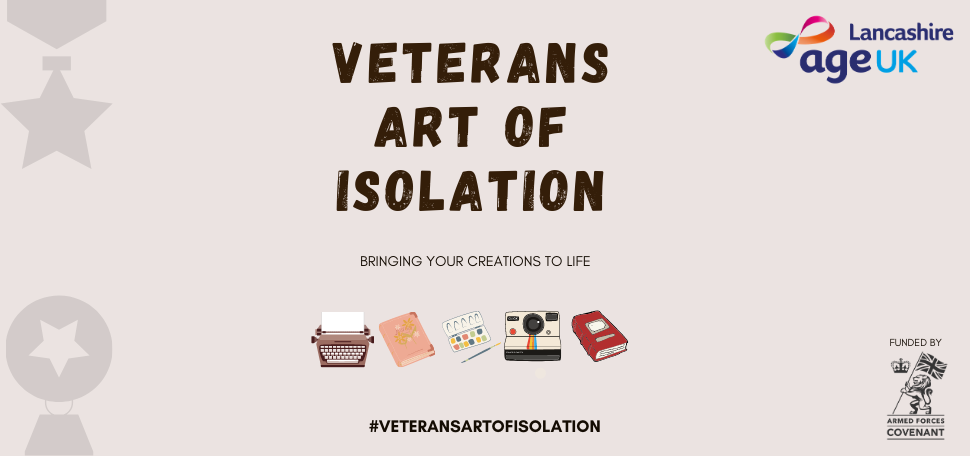 We anticipate that the submissions will reflect many aspects of our lives during lockdown. It could be that new hobbies have been discovered or old ones rediscovered, new skills developed or existing skills used to create something new. It could be a photograph through glass of a loved one, paintings of the places and people you would have seen if it hadn't been for lockdown, a record of local flora and fauna, a film of yourself picking your first-ever home-grown radishes, a drawing made of a family member, an audio story recorded for grandchildren, a poem or a song. The list is endless. We're looking forward to being surprised!
Anne Oliver from Age UK Lancashire said: "As a charity, we have been working with and for veterans in Lancashire over many years, most recently with our current Removing Barriers project, aiming to support veterans, their families and carers in a whole range of ways. We hope this creative exhibition will give people the opportunity to showcase the more positive experiences they may have had during covid and are so excited to see what people send in and become part of our exhibition. This is aimed at all abilities."
The limit on the amount of work that can be submitted in different media is:
Photographs: Up to 6 photographs
Writing: Up to 2000 words
Audio recordings: up to 2 mins recording time
Film: up to 2 mins recording time
Submissions can be made to either by email to advice@ageuklancs.org.uk writing Veterans Art of Isolation in the subject line, or by sharing on twitter tagging @AgeUKLancashire and using the hashtag #veteransartofisolation #VAOI
People without access to the internet can call Age UK Lancashire on 0300 303 1234 to find out how to submit their entrees.