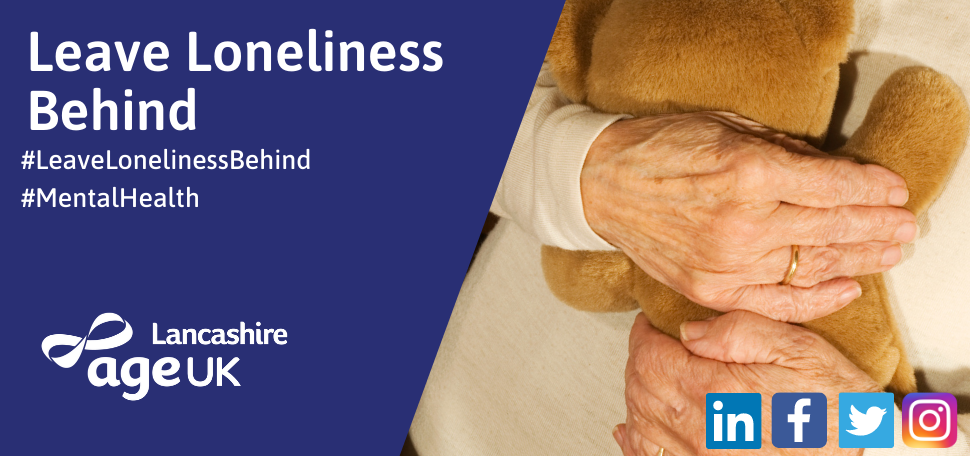 Donate today
Help us save older people from loneliness today.
#LeaveLonelinessBehind #MentalHealth
Leave Loneliness Behind is a campaign highlighting the link between loneliness and mental health issues, and how this can have a drastic effect on a person's wellbeing.
It is estimated that 4.2 million people in the UK are likely to be affected by mixed depression and anxiety.
Loneliness can cause anxiety and depression. Right here on our doorstep in Lancashire, there are 35,000 lonely older people (aged 65+), who have little or no contact with anyone.
The Problem
Mental health has taken over conversations and continues to provoke discussion both online and in the real world. Even those who suffer from mental health find it difficult to open up and seek help for what they may be experiencing, which is something that should be changed. That change is well underway, but we're not there yet.
A study by the World Health Organisation (WHO) found that between 30 to 80 percent of people with mental health issues, don't seek treatment.
Mental health is a vast and complex topic, and there are many factors that can influence how good or bad our mental health is, and one of those is loneliness.
From April to May 2020 around 2.6 million people across Great Britain said they feel lonely "often or always".
Our Solution
Whilst there is no single solution to these problems, there is, however, common factors in many individuals' experiences that we are actively trying to support.
Age UK Lancashire offers a variety of services that promote wellbeing, independence and social interaction, all of which positively impact our mental health. We have adapted our services throughout the pandemic to ensure the most vulnerable in our communities are not forgotten. Find out more HERE
Our Aim
Here at Age UK Lancashire, we strive to give everyone the opportunity to live their best later life. We want to promote change and with your support we believe we can truly kick-start a positive change.
Here are our aims:
We want to raise awareness of the impact loneliness has on mental health.
We want to raise money to support our hard work in the community, supporting the most vulnerable members of society.
We want to see change, and we believe with your help, we can make that happen.
Support our campaign today!
Need some motivation to get active? Join us to go 35 Miles that Matter
More Ways to Get Involved
Do you want to take on your own challenge and help raise money? Perhaps you are a local business looking to help out a local charity?

100% of the money you raise for us stays right here in Lancashire, helping us support vulnerable older people.

Why not get started today?
Donate today
Save 160 vulnerable older people from loneliness