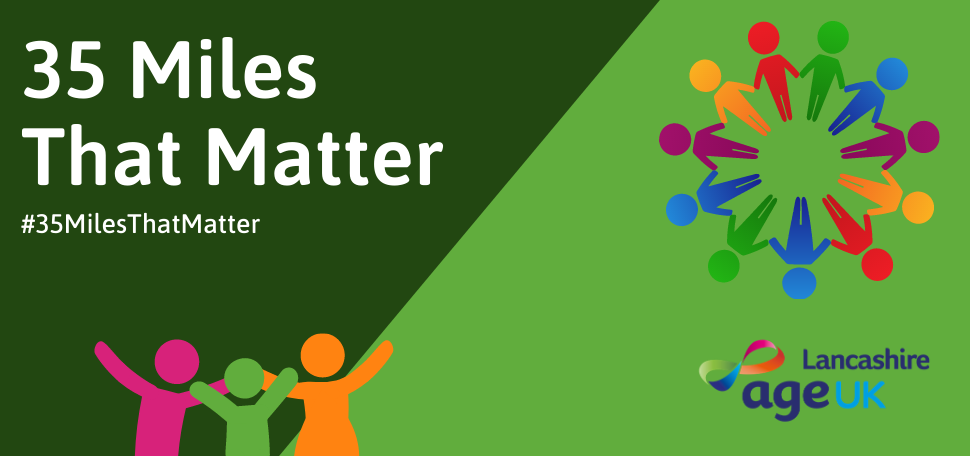 35 Miles That Matter:
Age UK Lancashire are excited to announce the launch of our new fundraising event: "35 Miles That Matter". The event will take place throughout the month of March during which participants will aim to. Maybe even climb, row or unicycle! Whatever you want to do!
You will be raising funds to combat loneliness in Lancashire. Before the pandemic, there were estimated to be over 35,000 lonely older people (65+) living in Lancashire, and the impact of Covd19 will have driven these numbers much higher. Being lonely and isolated can drastically damage a person's mental health and cause anxiety and depression. Age UK Lancashire wants to tackle this problem headfirst, but to do this, we need your help.
How can you get involved?
It's really simple…click on the Just Giving link below and follow the simple steps to activate your very own fundraising page. Decide how you wish to complete the 35 miles and then tell everyone you know what you are doing and encourage them to sponsor you.
You could take on this challenge individually, as a couple or even get the whole family involved. It's a great way to get active and support a local charity.
There is no minimum amount you have to raise, every penny counts and 100% of funds stay right here in Lancashire to directly support older people here.
Get Started Now
Set up your Just Giving page and get started
Share your journey with us!
Take photos and videos out on your walk and tag us on social media and we will share your posts! Twitter Facebook Instagram.

What are we doing to help?
Age UK Lancashire currently offers a variety of services that promote independence and encourage social interaction. The last 12 months have been a very difficult time for older people, some of whom have been directly affected by the Covid19 and others who have found themselves isolated and cut off from their loved ones and friends due to the lockdown restrictions.
To find out more on the services we offer, and updates to our Covid-19 provision, please click here.
Can we count on you?
With your help, we believe that we can start to make the positive change we envisage. We want to change opinions on mental health and loneliness, drive people with platforms to do the same. We want to create an environment that is safe and judge free. We want to make a change, and that starts with you, one person at a time.
What can you do?
Fundraise

Fundraise for Age UK Lancashire today, get involved and directly support our work in your community. 100% of the money we raise stays right here in Lancashire, to help people right here in our community.

Donate

Can you spare just a little change to support Age UK Lancashire? The money we raise stays with Age UK Lancashire and directly supports our work throughout communities that need us.