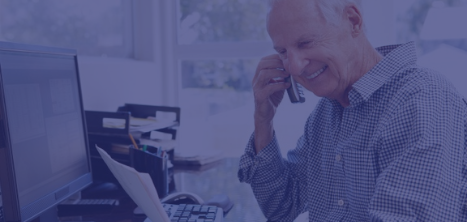 Contact us regarding fees
What is the Digital Inclusion Project?

Age UK Lancashire have launched an exciting new project to support Digital Inclusion and help people to use the right technology and platforms to get online and connect with friends and family by expanding their digital knowledge.

What is "Digital Inclusion"?

The Government's Digital Strategy defines Digital inclusion as: , "reducing digital exclusion by making sure that people have the capability to use the internet to do things that benefit them day to day".

Digital inclusion is often defined in terms of:

Digital skills - being able to use computers and the internet. This is important, but a lack of digital skills is not necessarily the only, or the biggest, barrier people face.

Connectivity - and access to the internet. People need the right equipment and tools but that is only the start.

Accessibility - services should be designed to meet all users' needs, including those dependent on assistive technology to access digital services. Accessibility is a barrier for many people, but digital inclusion is broader.

Project Aims & Objectives

We are aware that the biggest barrier to digital inclusion is often a lack of confidence. We want to introduce older people to technology, get them online and help them explore the digital landscape. We understand how daunting using technology can be and we want to provide support to enable people to get connected and stay online at a pace that feels right for them.

We want to work with older adults by starting with the basics such as creating an email address and setting up social media accounts so they can connect with family and friends safely. We will discuss the interests and needs of each individual and then help them download and use applications (apps) so that they can, for example, order groceries online, watch the cricket or access medical records and GP services.
What are we doing?
Equipment: Age UK Lancashire may be able to provide a tablet on a short term loan to enable you to try out devices before making a commitment to purchasing your own. In addition we may be able to provide a mobile router and data package to help you get online without the need for home broadband.
Please contact us to discuss your needs and we will be happy to help you make a decision as to the type of equipment needed and help you set it up.

Support:

We have also secured some funding to be able to offer one to one support to ensure the equipment is set up according to the needs of the individual and provide ongoing advice over the telephone to help build confidence and address any issues as they arise.

Training and Resources: In addition to providing support over the telephone we also encourage all recipients of equipment to sign up to the Learn My Way website. This site offers simple step by step information on how to use all aspects of the internet, social media, applications and online security issues such as scams awareness.

If you already have your own IT equipment and would like a little help to develop your skills we will be equally happy to help.

Online Groups:

Staff Support

Dave Ward is the Digital Inclusion Coordinator at Age UK Lancashire. He provides support in a format that is flexible enough to suit the needs of each individual. If you have no experience of using IT He will talk you through the process step by step and if you have some digital confidence already will work with you to develop your skills and get the best out of your equipment


If you want to find out more about the project as a participant or partner, please complete the form on our website using the link at the top of the page.

Alternatively, contact Dave Ward at diward@ageuklancs.org.uk or phone the Age UK Lancashire customer service team on 0300 303 1234.