The Veterans Support in the Community service aims to help people remain independent and encourages socialising and taking part in activities in one of our Day Clubs.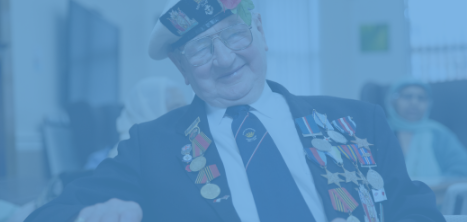 What does this service do?
Our outreach team will work with you on a one-to-one basis, helping you overcome any barriers that may stop you from attending social activities or opportunities to get out and enjoy later life.
We will be with you every step of the way ensuring you are comfortable and help you regain or maintain confidence in social settings.
How to access this service
Anyone can access this service through self-referral, health professionals or relevant organisations.
We aim to provide information and support to anyone aged over 50. Our friendly and professional team are on hand to assist with any issues or concerns you may have.
Get In Touch
If you would like to find out more about this service then please don't hesitate to get in touch with us!
You can contact us via email: referrals@ageuklancs.org.uk
Or alternatively by phone: 0300 303 1234
Download Leaflet
Download our Veterans Support information leaflet