Our plan 2018-2021
We will influence, shape and deliver responsive services, supporting the independence and wellbeing of older people in Leeds to positively improve their quality of life.
Find out more in the sections below
Our Vision
Older people living in Leeds will be valued, their voices will be heard and they will be able to enjoy positive, independent lives.
Our Values
We are Respectful
We are Kind
We are Reliable
We are Inclusive
We are Efficient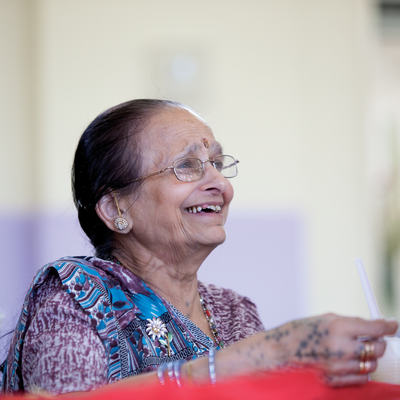 What We Do
Age UK Leeds supports older people living with frality, long term physical or mental health condition and disabilities.
Age UK Leeds works city-wide, 7 days per week.
Age UK Leeds combats loneliness.
Age UK Leeds works in partnership to achieve the best outcomes for older people in Leeds.
Age UK Leeds reduces pressures on health and social care services.
Age UK Leeds is a responsible and sustainable organisation.
Our Five Strategic Aims
Click on the links below for more information about each aim.
1. Independence
Older people living with frality or with physical or mental health long term conditions and disabilities will maintain their independence.
We will:
Address the issues that are important to the older person to enable them to live the life they want to the best of their ability.

Focus on what they can do, not on what they can no longer do.

Provide 7 days per week community based integrated, person centred services.

Support safe discharge from hospital and reduce unplanned admissions to hospital or permanent care admissions.

Enable older people to get support with daily living tasks and personal care to enable them to continue to live at home.
2. Social Connections
"No one Should Have No One"
We will:
Focus our support on those who are the most isolated, housebound or living with frality (including older people living in care homes).

Support older people to identify past, current and potential future interests, networks and social connections.

Support older people to regain and maintain confidence and keep socially connected.

Promote digital inclusion.



3. Health and Wellbeing
Older people living with frality or long term conditions or disabilities will achieve optimal physical, mental, and emotional health and wellbeing.
We will:
Provide targeted health and wellbeing activities including falls prevention mobility and nutrition and hydration information to prevent older people becoming frailer.

Promote mental health and emotional wellbeing.

Support older people to self manage their long term health conditions.

Focus our services in areas of highest need to reduce health inequalities.
4. Resilence, choice and control
Older people and their carers will build and maintain resilence to deal with major life changes and make informed decisions, exercising choice and control.
We will:
Support older people to plan for and manage major life changes.

Support older people to navigate health and social care services.

Provide expert advice on money and benefits, legal matters, costs of care and other issues affecting older people.

Talk about dying and bereavement to support older people to plan for their last years of life.

Support older people to understand their rights, make their voice heard and advocate on their behalf.
5. Positive contribution
Older people will make a positive contribution through being active, engaged, respected and valued.
We will:
Enable older people to influence the governance and strategic direction of Age UK Leeds.

Support and develop our Older People's Engagement Group.

Provide opportunities for older people to share knowledge and experience and to volunteer.
Strategy Leaflet
We held a special event on the 2nd November 2018 to launch our new Strategy. As part of the event we had a leaflet printed. You can pick up a copy of the leaflet at our Age UK Leeds Office, Bradbury Building, Mark Lane, LS2 8JA or download a copy.