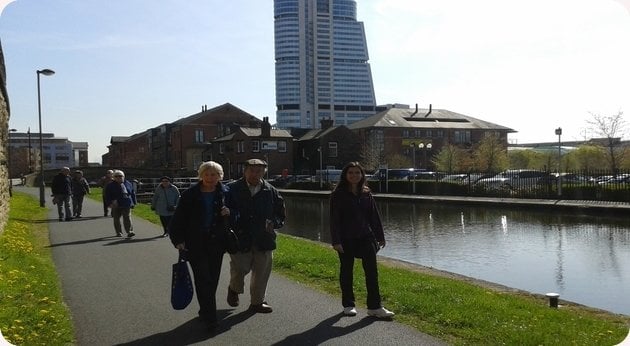 We deliver a range of health and wellbeing activities from our base in the centre of Leeds:
Living Well with Dementia
This is a 10 week course.Price is £20 per session and it will run between 10am and 2pm and includes lunch.
All people that wish to attend the session must be assessed first so if you or someone you know is interested please contact Emma Cooper on 0113 389 3001 or 0113 389 3000.
Falls Prevention Exercise Classes
Age UK Leeds works in partnership with Leeds City Council's Active Leeds team to coordinate a programme of Postural Stability exercise classes in community venues across the city. These classes run for 20 weeks and are designed to improve balance, strength and coordination for older people at risk of falls. Your can refer yourself to this programme. For more details please click here
Walking for Health
Weekly walks every Tuesday. Meet at 10.30am in The Arch Cafe, Mark Lane Our walks are part of the national Walking for Health programme. They are short (up to an hour and a half), sociable and led by fully trained volunteer walk leaders.
Our Walking for Health scheme has now received a certificate of accreditation from the national Walking for Health programme, our details here . We are now a valued part of a recognised movement that aims to improve the nation's health through walking, helping more people feel supported to get active and stay active.
Please click here to download the Walking for Health information leaflet.
Creative Writing Group
A space to write, create and share ideas - open to all, no previous experience necessary! The group meets on the 2nd and 4th Tuesday of the month at 2pm at Age UK Leeds and at John Lewis Community Hub. Please click here for the programme of dates and locations.
Please get in touch for information on current and forthcoming activities.
Lee Potter - Acting Ageing Well Manager
Tel: 0113 389 3007
Email: lee.potter@ageukleeds.org.uk