Loneliness Prescription Service
Life changing events such as becoming housebound, losing your carer or your partner, not having your family around you or a change in your health can disconnect you from the outside world and leave you feeling lonely.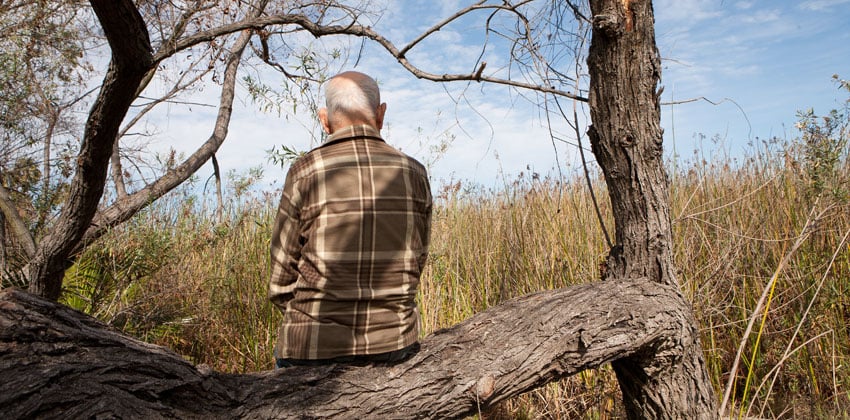 This service aims to help you understand and identify your needs to overcome social isolation and loneliness.
How can the Loneliness Prescription service help me?
This service works together with your GP to help you overcome social isolation and loneliness. We are working with your GP and health professionals to support patients overcome social isolation and loneliness.
We can offer a wide range of services such as:
Sign-posting you to information and advice services.
Telephone befriending
Providing you with information on what is happening in your local area.
Support to access local community.
Support you to form meaningful friendship.
Where is this service available?
Is this service free of charge?
This service is funded by the Big Lottery Reaching Communities programme. It is free to you.
How can I access this service?
Please contact our Loneliness Prescription Project Coordinator, Yasmin Shaikh on 0116 223 7367, or email: yasmin.shaikh@ageukleics.org.uk
You can also talk to your GP, or other staff member at your GP surgery, and ask to be referred to the service.
Susan's Story — Freedom Reclaimed!
Getting a mobility scooter has given Susan a new lease of life.
Susan, 69, had been living with health issues for six years which restricted her ability to get out and about, especially in the winter months. In addition to asthma and chronic obstructive pulmonary disorder (COPD), Susan developed a problem with her foot making her dependent on her family or taxis to buy groceries or visit friends. The cost of taxis meant that Susan couldn't get out very often and she was becoming increasingly housebound.
"I was in a lot of pain with my foot and I couldn't get out much. To go anywhere I had to get a taxi which was at least an £8 round trip. It was a difficult time and I got a bit low during winter. After a few months a friend suggested I get some help."
Susan's initial phone call resulted in her details being passed to Yasmin Sheikh of the Loneliness Prescription project. Yasmin visited Susan, spending time with her asking about her situation and understanding the challenges that were keeping her largely isolated at home. Susan enjoyed the meeting: "She was absolutely lovely and it was like I'd always known her. She just let me babble on and gently asked questions about my situation."
Yasmin then arranged for a colleague from Age UK to visit Susan and undertake a home energy check as Susan felt cold in her house. He fitted energy saving light bulbs and a draught excluder to make her lounge warmer and reduce her heating bills. Meanwhile, Yasmin completed a Charity Link grant application form on Susan's behalf asking for funding towards a mobility scooter which would enable Susan to be able to get to the local shops and visit her friends and family.
The application prompted an occupational health worker to visit Susan to assess the potential for her to use, store and charge a mobility scooter and soon after Susan received a letter from Charity Link telling her that the application had been approved. Susan said "I had to read the letter about three times to take it in. I went from being really puzzled to being amazed that it was happening for me."
A local supplier of mobility products brought a scooter along to check whether Susan would be able to use it and get it through her gate. As someone who'd never driven a car Susan was nervous but was shown how to move it around. After a successful 'test drive', her scooter was ordered.
When the scooter arrived Susan was delighted: "It came on a Wednesday and as soon as the man left it with me, I was off!"
Susan has seen her life transformed since getting her scooter and is getting braver at going out and going further on it: "I can't believe I've been that lucky. I can go quite a long way on my scooter – it's about ½ hour to my doctor but my scooter gets me there. I've even been into Tesco's; it was nerve wracking but I did it. It's changed my life and I am forever grateful to Yasmin for her help, she was brilliant."
Anil's Story — Rebuilding a Life After Homelessness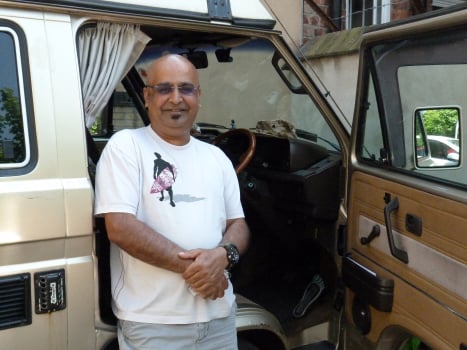 Anil Parmar had the perfect life - a happily married, loving husband with two adored children, a lovely home near Western Park and a steady job. But, in 2005, aged just 41, Anil had a major heart attack swiftly followed by two further, minor attacks in 2006 and 2007. In 2008 he underwent triple heart bypass surgery and his world started to crumble: "Everything went downhill, health, relationship, bank balance and then I also lost my brother and I sank into depression."
A difficult divorce meant that Anil had to leave the marital home and, with no income or savings, in February 2015 he started living in his only possession – his VW camper van. Whilst cramped and with very basic facilities, in summer it was manageable but not so in winter: "In the deep of winter it's dark until after 9am and you need to cook breakfast, have a wash, clean, do your insulin and medications, and you only have a few hours daylight. I would spend 18 hours in the dark and that didn't help my mental state. It was like being locked up, being in prison. "
Anil's lifeline was his monthly GP visit to collect his prescriptions. It was his GP who referred him to Age UK's Loneliness Prescription and the project's coordinator, Yasmin Sheikh. With just outline information about Anil's situation, Yasmin met him at the Belgrave Neighbourhood Centre so that she could get more detail about his life and the challenges he was dealing with. Yasmin also looked at his living conditions in the camper van and, knowing how bad his health was, realised that she had to take fast action to help get him into proper accommodation.
Anil had faced difficulties presenting his case for accommodation to the local authority who he felt didn't recognise the 'invisible' mental challenges he was dealing with, including acute anxiety and depression, and he recognised the paradox that they could not officially classify him as homeless as he was named on the deeds of the marital home that he could no longer live in. Yasmin contacted the Council's Housing Manager to highlight how Anil's living arrangements were causing a serious decline in his physical and mental health as well as affecting his relationship with his children. With her help and intervention, Anil was offered a flat in the city and, 2 ½ years after moving into his camper van, he moved out in August 2017. Since then he has worked to make his flat into a home with the support of friends, family and Age UK's Yasmin Sheikh.
Anil is now concentrating on getting himself fitter and healthier and, although he'll need medication for life, he is maintaining a very positive attitude. He has also started volunteering with Age UK as a befriender to a gentleman who has been through tough times in a similar vein to Anil's and who is feeling lonely, isolated and struggling to build a new life and make new friends. Having experienced the frustrations, the lows and the challenges, Anil is determined to give back to others locally and help them take the first steps towards a better tomorrow.
"The past is the past, it's never going to come back and it's never going to be the same. I've lost everything but it's no good sitting crying about it. Whilst I don't look too far into the future, because I don't know what the future holds, I take each day as it comes and I enjoy each day. It's not been easy and I'm doing the best I can. I can't appreciate enough what the whole of Age UK has done for me."
Further Information
Our Loneliness Prescription Leaflet provides more information on this service.