Age UK Lewisham and Southwark has, for the past year, worked to establish a focus on the dignity and wellbeing of older people living in both residential and own home settings.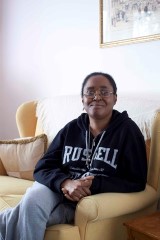 The Homecare Quality Check project focuses on local authority (Lewisham and Southwark) contracted home care for older people aged 55+. Formerly known as 'Carewatch', the project relies on a mixture of paid and volunteer staff to achieve its dual aims of checking:
how homecare services contracted by Lewisham and Southwark Councils are impacting on older peoples' quality of life
care workers' quality of employment
Who to contact
If you would like more information or to arrange a visit for your self or someone you know, just call us at the number below.
Joan Thomas
Homecare Quality Check Coordinator
Stones End Day Centre
11 Scovell Road
London
SE1 1QQ
Tel: 0207 358 4076 (Joan works part-time, and so will return your call as soon as she is available)
Email: joan.thomas@ageuklands.org.uk
If you prefer you can fill in a referral form with your details, email it to us or post to the address above and we will call you.
Download report
Here you can download a report detailing the Homecare Quality Check project findings, plus supplementary documents as to the research methodology.