S.A.I.L. Care Navigators support older people living in the Borough of Southwark to participate in their local community and access the full range of services available, including leisure and social activities.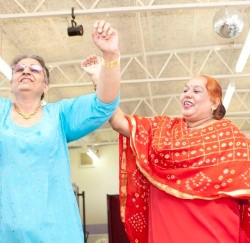 We typically do this through one or two person-centred home visits to establish what support services a person could benefit from, and which they would like to be linked to. This can include (but is not limited to) social groups, befriending organisations, social care or health services.
We can even accompany someone out to a social group for the first time to plan a route and introduce them to the members.
We have also been trained by community dieticians to work to combat malnutrition when social causes are at its root.
Who to contact
If you think someone would benefit from this service, please contact us:
Syeda Hussain
S.A.I.L. Navigation Project Manager
Stones End Centre
11 Scovell Road
London
SE1 1QQ
Tel: 020 7358 4077
Email: syeda.hussain@ageuklands.org.uk
How to refer
To refer to the service, you can either call us on 020 7358 4077 or download a S.A.I.L. form and send it back to us via the email or postal addresses above. Simply tick either of the questions that lead to a S.A.I.L. Care Navigator.