Age UK Lincoln & South Lincolnshire welcomes any support from the local community. As a local, independent charity we work to make a real positive difference to improve the quality of lives of older people living in Lincoln and South Lincolnshire. Without your help we would not be able to reach out to our local community to offer our free support services including befriending and free information and advice, helping older people to live independently at home.
Are you a student? An NCS group? Or looking to seal an occasion with donations for Age UK Lincoln & South Lincolnshire?
Remember - if it gets people together, it can be a fundraiser!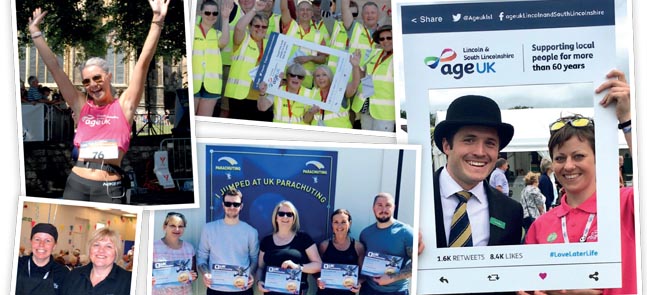 There are lots of events and activities you can get involved in to fundraise for us:
Dress down days
A dinner party
A great cake bake
Challenge events
To name a few. Download our fundraising guide above or email fundraising@ageuklsl.org.uk for more ideas of how you can help.
If you're feeling brave, you could always join our
2020 15,000ft skydives!
Age UK Lincoln & South Lincolnshire offer services and support approximately 110,000 people over the age of 65, almost 15,000 of these individuals are over 85. Demand for our services is increasing every year.
Last year, our Information & Advice service responded to more than 7,000 enquiries to help older people access more money to improve their standard of living.
We helped older people in Lincoln and South Lincolnshire claim over £1.1 million in unclaimed benefits in 2017/18 alone. A figure we want to keep improving every year.
Fewer older people in and around Lincoln and South Lincolnshire will be living in isolation thanks to our befriending volunteers who visited 2,000 lonely people last year.
We welcome over 1,500 people who are 50 and over to our Park Street Activity Centre every week for a range of activities from: Friendship Group and Lunch Club to Tai Chi, Silver Surfer and Language Classes
Start fundraising today!
Download our Fundraising Guide here